Flowers make people happier, better, and more productive. They are believed to be sunshine, food, and medicine for the soul. Wherever you put them, they always create an atmosphere of joy and positivity. In an office setting, the impact of flowers goes beyond aesthetics; they can significantly improve the overall ambiance and boost the well-being of employees. In this article, we'll explore eight captivating flower arrangements from FiestaFlowersAz.com that will enhance your office ambience, boost employee morale, and create a more welcoming space.
CRYSTAL COMPOTE IN WHITE L-1249
White flower arrangements are versatile and can complement any office decor style, whether it's modern, minimalist, or traditional. The neutral color allows them to seamlessly blend with existing furniture and design elements. Our CRYSTAL COMPOTE IN WHITE L-1249 is designed to be viewed from all angles, ensuring that its beauty is appreciated from various areas in the office. This makes it an excellent centerpiece for communal spaces, reception areas, or conference rooms. The combination of Asiatic Lilies, Mums, Alstroemeria, and white Roses complemented with Silver Dollar Eucalyptus showcases a delightful mix of colors and textures. Having this arrangement in the office can positively impact both employees and clients, fostering a warm and friendly environment.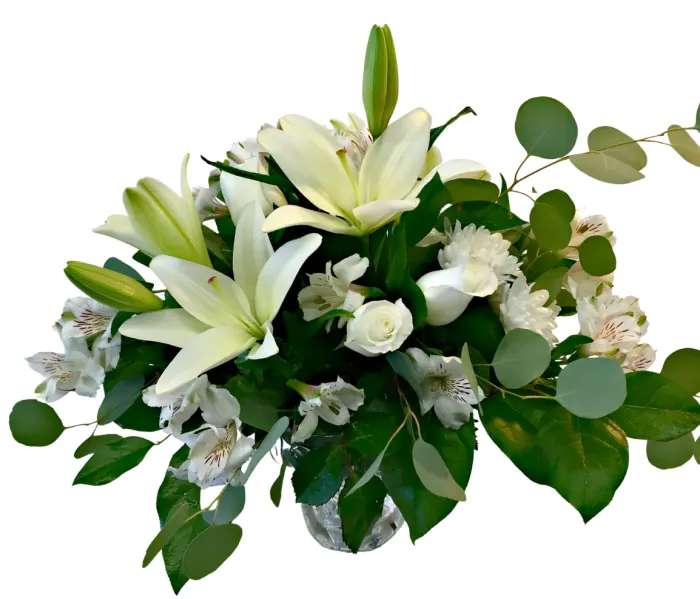 The KINDEST HEART CUBE U-3048 has a compact size and low profile, making it a perfect fit for office desks. The all-white theme of this arrangement exudes a sense of purity, elegance, and sophistication. With its white Lilies, Roses, Alstroemeria, Mini Carnations, and Wax flowers, the Kindest Heart Cube gives a soothing aura. The calming effect of the arrangement can contribute to a stress-free and tranquil office, promoting better focus and productivity.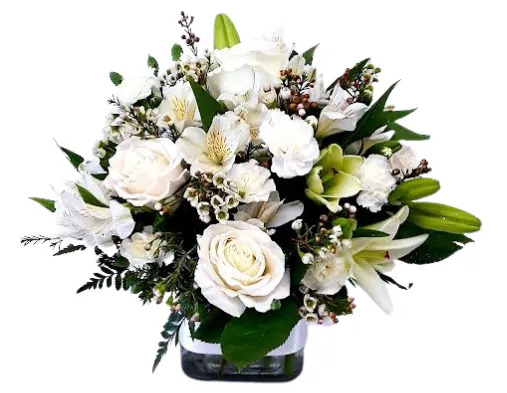 Another all-white arrangement is our ALLURING ELEGANCE L-1261. This arrangement's contemporary design and exquisite selection of white lilies, white roses, bells of Ireland (or white snapdragons), white wax flowers, and curly willow create an elegant and sophisticated look, adding a touch of class to any office setting. This eye-catching arrangement can become a focal point in the office, improving the overall ambiance.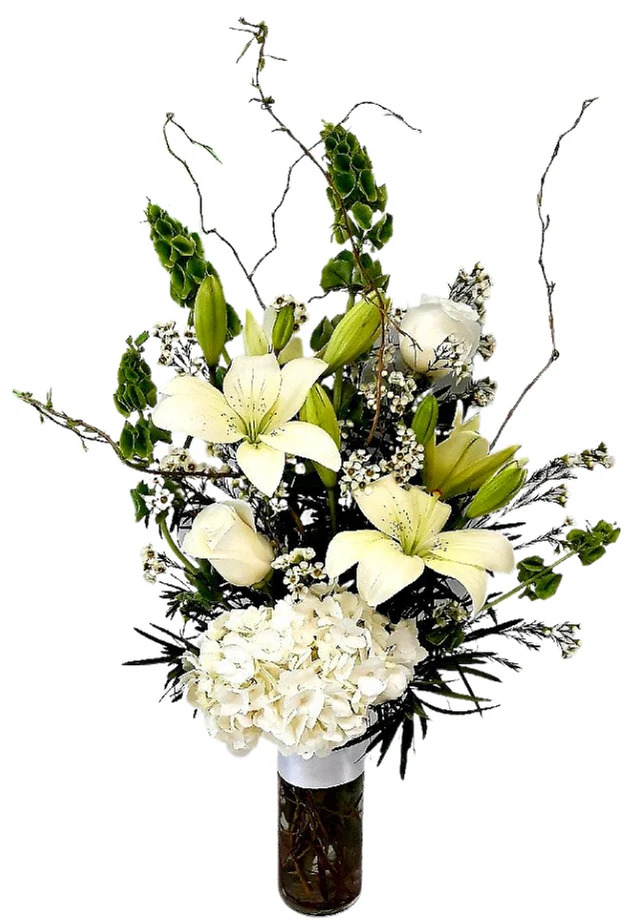 If you're looking for a colorful arrangement, then you can consider BRILLIANTLY BEAUTIFUL U-3059. This arrangement features a striking combination of hot pink Roses, yellow Alstroemeria, purple Misty, and vibrant purple Mini Carnations. The vibrant colors create an energetic and eye-catching display that adds a burst of positivity to the workplace. The arrangement is thoughtfully designed in a 4x4 cube vase, making it perfect for smaller spaces such as office desks, dining tables, or countertops. The ribbon serves as a stylish detail that complements the colors of the flowers and adds a finishing touch to the arrangement.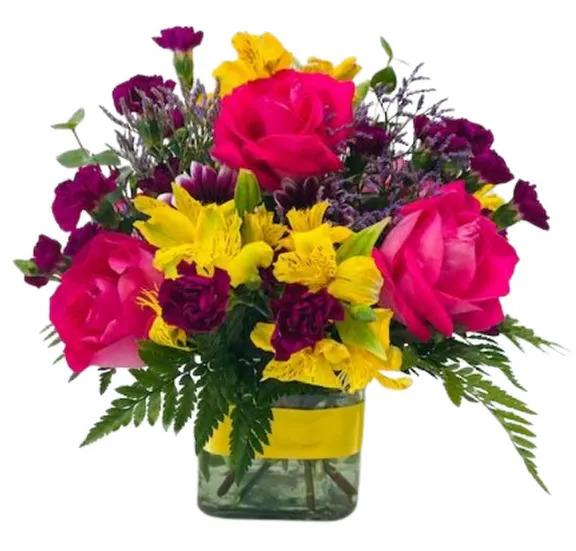 SWEET CLOUDS U-3062
The arrangement's combination of baby's breath, white roses, white mini carnations, and silver dollar eucalyptus creates an elegant and simplistic aesthetic. The clean and pure white color palette brings a sense of sophistication to the office space. This is ideal for busy office environments, as the arrangement will continue to bring beauty and freshness.
Daisies are often associated with happiness and sunny days, making them an ideal addition to uplift the office environment. So if you want something that will evoke energy and positivity in the office, our DAISY DREAM CUBE V-1019 is the perfect choice. Daisy Dream Cube V-1019 is beautifully arranged in a clear glass rectangle vase, which provides a modern and sleek touch to the overall design. The transparency of the vase allows the vibrant colors of the flowers to stand out, creating an eye-catching decor for the office. The arrangement's height of 6 inches makes it suitable for various office spaces, whether placed on a desk, reception area, or shared meeting table.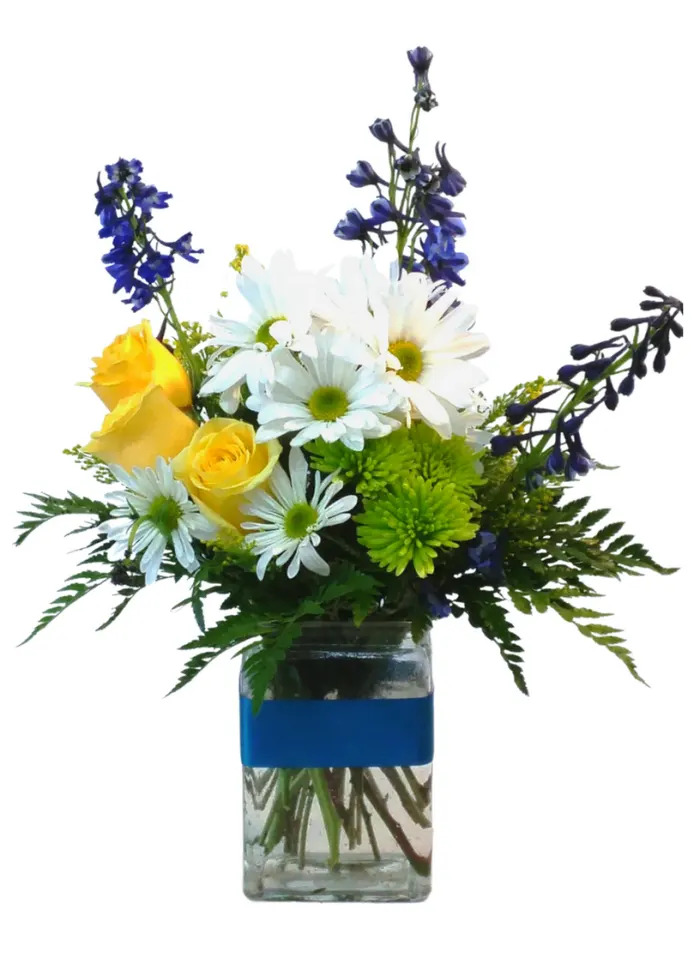 LAVENDER ROSE & WHITE DAISY BOUQUET R-1720
The combination of Lavender Roses with the simplicity of Daisies and purple Limonium offers a pleasing contrast in colors and textures. The lavender and purple tones blend harmoniously, while the white Daisies add a touch of freshness and simplicity to the arrangement. Lavender Roses symbolize enchantment and love at first sight. Their presence stimulates the imagination and encourages fresh perspectives, making them ideal for brainstorming sessions and creative endeavors.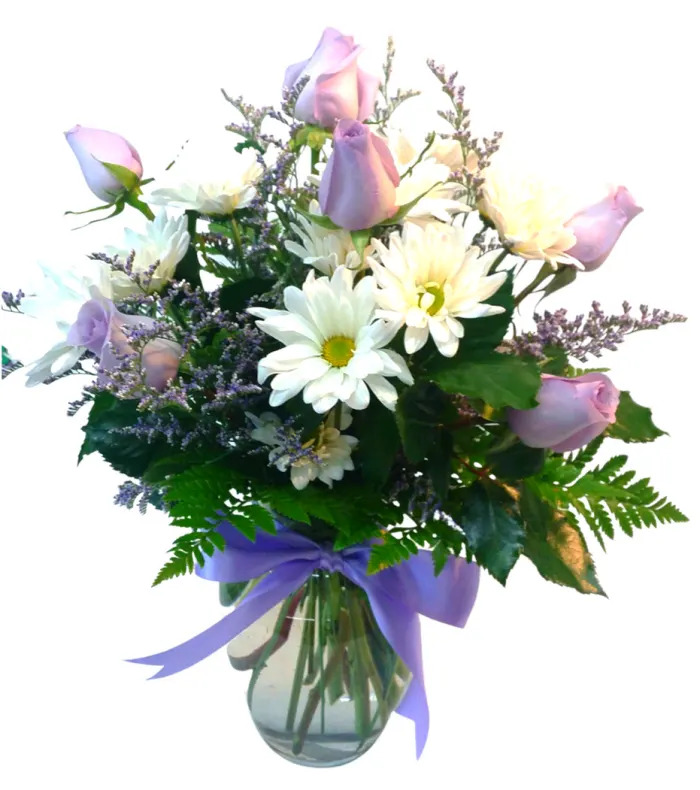 White lilies have a lovely fragrance and will fill the workplace with a delightful scent. White Lilies are often associated with purity, innocence, and the beauty of the soul. Incorporating them into the office decor can create a sense of tranquility and promote a serene work environment. The enchanting presence of White Lilies can uplift moods and make your day better, especially after a long and tiring day in the office.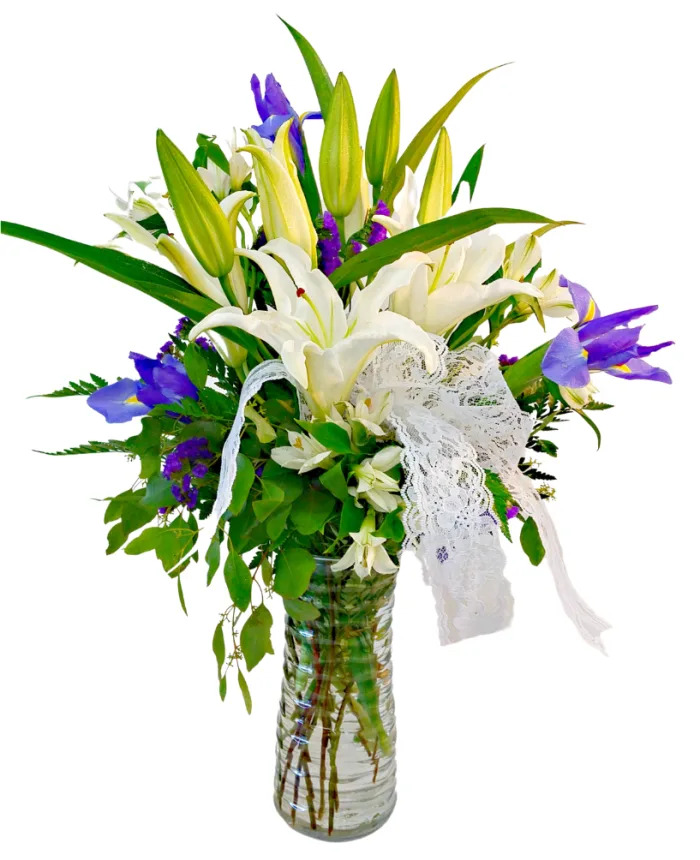 If you're looking to enhance the ambiance of your office with beautiful flower arrangements, FiestaFlowersAz.com is the perfect destination. Their wide selection of flower arrangements offers something for every office decor style and preference. Whether you prefer vibrant and colorful blooms, elegant and sophisticated arrangements, or calming and serene white flowers, you'll find the perfect fit for your office space.
By incorporating flower arrangements into your office decor, you can create a more inviting, uplifting, and visually appealing environment. Flowers have the power to improve mood, reduce stress, and enhance productivity, making them a valuable addition to any workplace.
So why wait? Visit FiestaFlowersAz.com today and explore our diverse selection of flower arrangements. We also offer weekly or biweekly Office Floral Subscriptions. Give us a call for more information at (480) 777-0060.