When it comes to expressing affection, appreciation, or celebrating special occasions, flowers are a timeless and heartfelt gift choice. However, the idea of gifting flower arrangements to guys might seem a bit unconventional to some. The truth is, flowers are not reserved solely for women. Men also appreciate the beauty, sentiment, and thoughtfulness that flowers convey. If you're considering gifting a flower arrangement to a guy in your life, whether it's your partner, friend, family member, or colleague, here are some valuable tips to keep in mind:
Choose Masculine Colors and Types of flowers.
While flowers themselves are gender-neutral, selecting colors and types of flowers that are considered more masculine can enhance the appeal of the arrangement. Opt for darker, bolder colors like deep reds, blues, purples, and oranges. Sunflowers, orchids, lilies, and roses in darker shades can work well for masculine arrangements. Mixing in greenery and foliage can also provide a balanced and natural look.
Flower Arrangements Worth Your Consideration:

NEW SENSATIONS V-1406: Presented within a sleek and contemporary cylinder vase, our arrangement showcases an exquisite medley of elements. The ensemble features the lush allure of tropical Emerald Palm, delicate light pink Roses, vibrant yellow Sunflowers, the verdant elegance of green Bells of Ireland, the playful charm of yellow Billy Balls (Craspedia), the vivid hue of bright blue Hydrangea, and the graceful touches of purple Wax Flowers.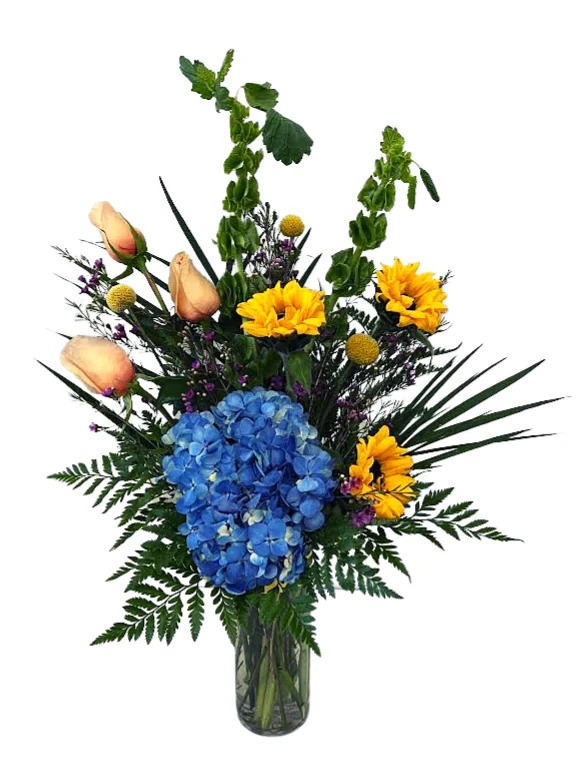 SWEET AS SUGAR V-1363: This enchanting garden-style arrangement is a symphony of colors and blooms, destined to infuse your recipient's space with unbridled joy. Crafted with the ethereal beauty of blue Delphinium, the regal allure of purple Larkspur, the vertical grace of Snapdragons, the captivating allure of hot pink Roses, the sunny radiance of yellow Solidago, and the innocent purity of white daisies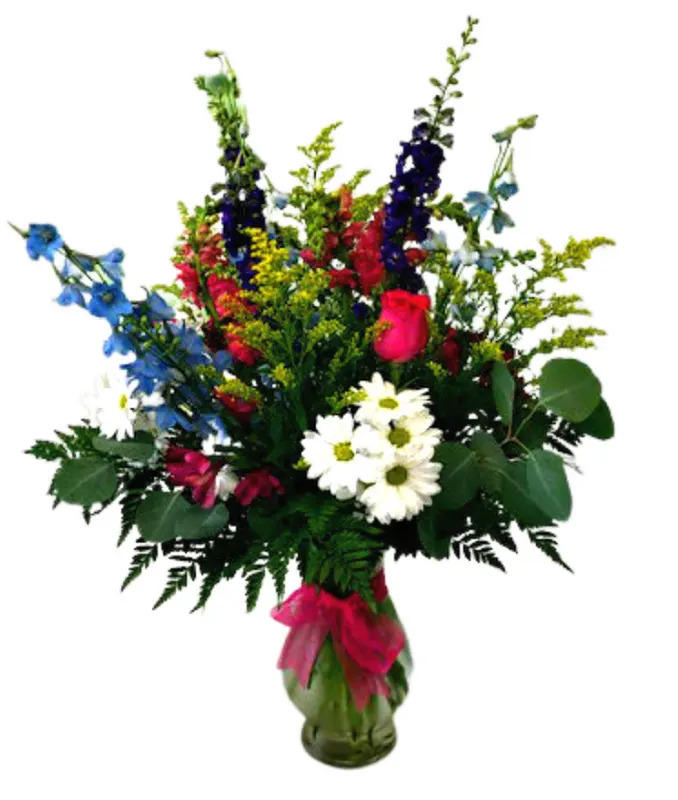 Consider His Preferences
Before selecting an arrangement, take a moment to consider the recipient's preferences. Do they have a favorite flower or color? Are there any flowers that hold special meaning for them? Incorporating these elements into the arrangement shows that you've put thought into the gift.
Consider the Occasion
The occasion for gifting the flower arrangement will influence the choice of flowers and the overall design. For example, for a romantic occasion, you might lean towards red roses or dark-colored blooms. For a birthday, you can choose vibrant and cheerful flowers. Tailoring the arrangement to the occasion adds a thoughtful touch.
For Romantic Occasions
FIESTA EMBRACE 12 RED ROSES IN A CUBE VASE R-1740: Carefully curated, this arrangement boasts 12 resplendent red Roses, masterfully arranged within a sleek modern cube vase. Enhanced with the subtle beauty of purple statice and adorned with a gracefully tied purple satin ribbon encircling the vase, this ensemble is nothing short of captivating and contemporary.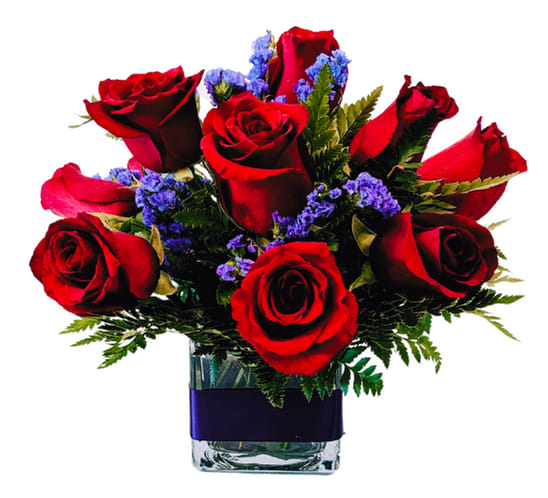 For a Birthday
SMILEY SUNFLOWER V-1355: Sending this radiant fellow to a guy friend or loved one is like sharing a burst of sunshine. Guaranteed to light up their day, this delightful Sunflower is the perfect way to send warmth and happiness their way.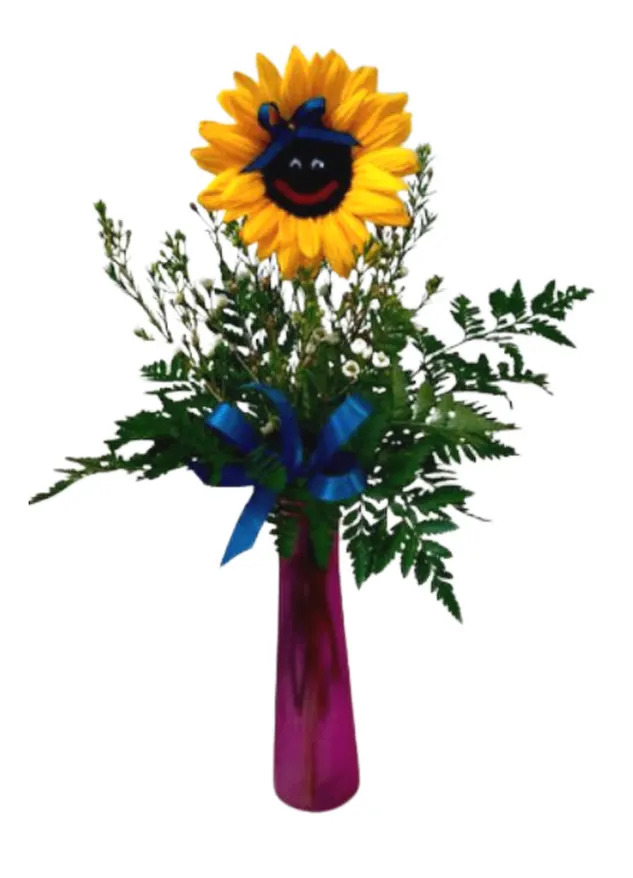 Add a Personal Touch
To make the flower arrangement even more special, consider adding a personal touch. This could be a handwritten note, a small gift that complements the flowers, or a specific theme that resonates with the recipient's interests. Adding this extra layer of meaning shows that you've taken the time to make the gift truly unique.
For Dog Lovers
BIG DADDY POOCH P-9032: This charming arrangement comes alive with the vivacious charm of hot pink Roses, the sunlit cheer of yellow Daisies, the playful energy of orange Mini Carnations, the lush allure of green Athos Pom, and the radiant glow of Solidago. A heartwarming gift that exudes joy and positivity, "The Big Daddy Pooch" is ready to bound into the hearts of your loved ones, making it a wonderful choice to brighten their day.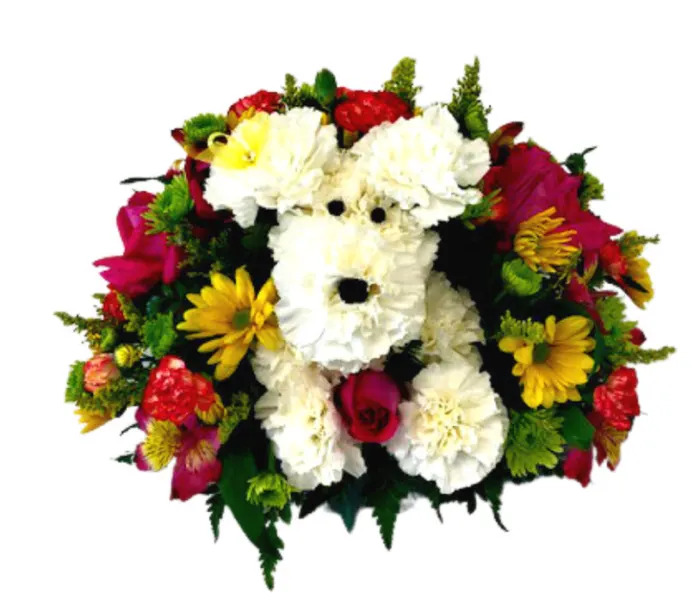 Think Beyond Romantic Gestures
Flower arrangements aren't limited to romantic gestures. They can also convey messages of friendship, gratitude, support, and celebration. A well-chosen flower arrangement can be a meaningful gift for various occasions, including promotions, graduations, housewarmings, and more.
For Promotions
ZEN GARDEN IF-5001: This arrangement transcends flowers, encapsulating a profound sense of balance and harmony. Its transformative impact on the feng shui of any space is undeniable, making it the perfect choice for those special moments, like promotions, where you want to convey both sophistication and congratulations.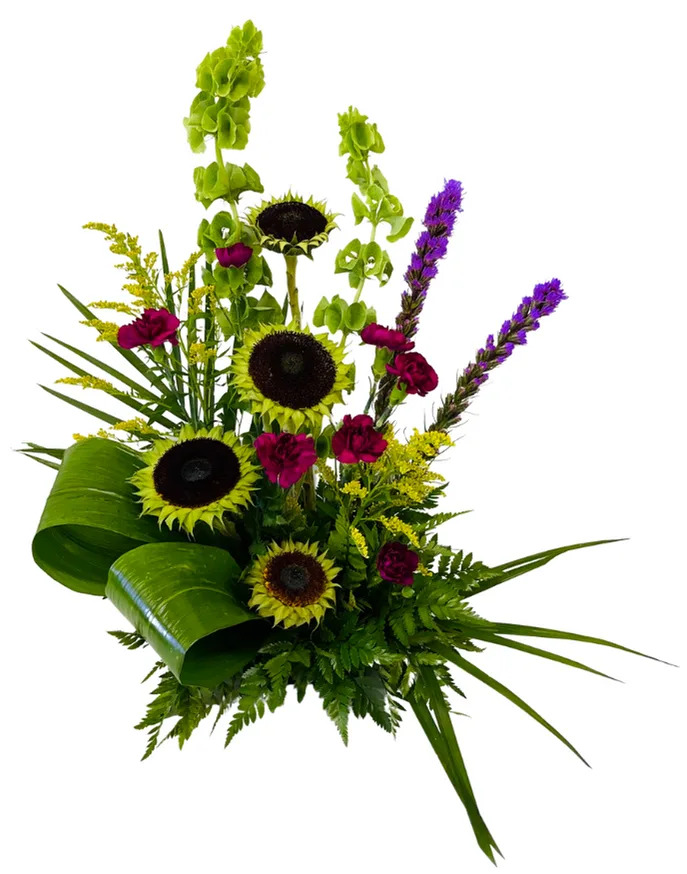 For Graduation
CARNATION LEI G-1105: Celebrate the milestone of Graduation with finesse through our exquisite Carnation Lei. This Carnation Lei captures the essence of accomplishment and the excitement of new beginnings in an elegantly curated package—the perfect tribute to a Graduation celebration.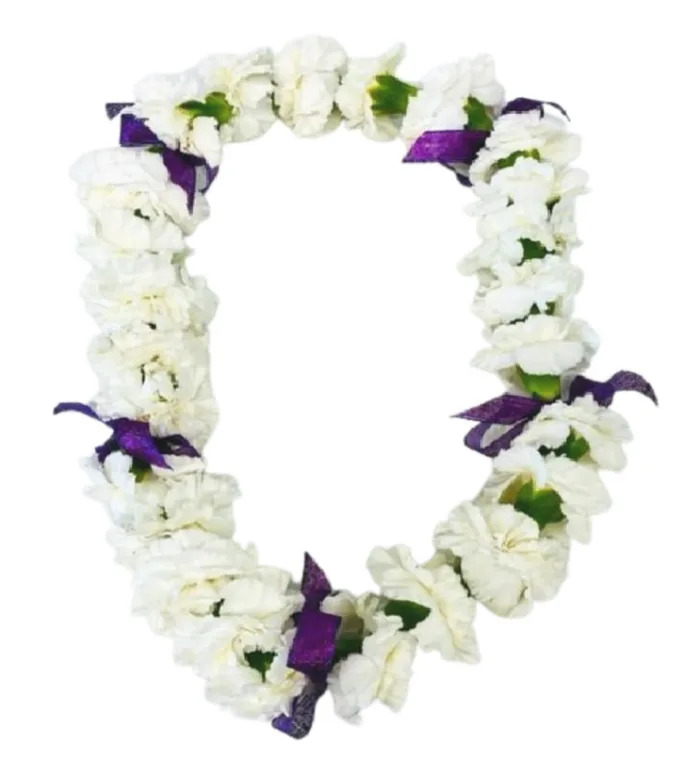 Focus on Quality and Freshness
When choosing a flower arrangement, prioritize quality and freshness. High-quality blooms will not only look better but also last longer, allowing the recipient to enjoy their gift for an extended period. To guarantee an exceptional floral experience, look no further than FiestaFlowersAZ.com. We're all about bringing you the best blooms and creating arrangements that are full of artistry and love.
Delivery
The way the flower arrangement is presented can enhance the overall experience. If possible, have the arrangement delivered to the recipient's doorstep or work as a surprise. Alternatively, you can hand-deliver the flowers and see their reaction in person.
Gifting a flower arrangement to guys is a thoughtful and meaningful gesture that can brighten their day and convey your sentiments in a beautiful way. By considering their preferences, the occasion, and incorporating personal touches, you can create a flower arrangement that resonates with them and makes a lasting impression. Remember, flowers have the power to transcend gender norms and bring joy to anyone's life. So, why wait?
Visit FiestaFlowersAZ.com today and explore our selection. Let the power of flowers speak volumes, breaking down barriers and touching hearts.