The Timelessness of Flowers
Flowers have graced our lives for centuries, weaving their way into our stories, traditions, and celebrations. From ancient civilizations to modern times, these delicate blooms have been used to convey a wide spectrum of emotions. Whether it's a single rose to declare love or a bouquet of wildflowers to express gratitude, flowers have always been a symbol of affection and thoughtfulness.
The Immediate Impact of Flowers on Happiness
It's not just poetic language; there's scientific evidence to support the idea that flowers can instantly uplift one's spirits. In a study by Rutgers University, they discovered that participants consistently reported "true" or "excited" smiles upon receiving flowers, demonstrating extraordinary delight and gratitude. This immediate and positive effect on emotions is a testament to the power of flowers to brighten someone's day. The results show that flowers
• Immediately elevates happiness
• Gives a lasting positive influence on emotions
• Facilitates intimate connections
The Sweetness of Surprising Just Because
One of the most endearing aspects of giving flowers for no specific reason is the element of surprise. Unlike occasions such as birthdays or anniversaries, when gift-giving is expected, the "just because" gesture carries a unique charm. It tells the recipient that they are loved and appreciated, not just on special days but every day. It serves as a gentle yet powerful reminder that
• You hold them in your thoughts consistently.
• You genuinely appreciate their presence and all that they contribute to your life.
• You want to express your gratitude, not just for grand gestures but for the everyday moments that often go unnoticed.
Flowers Speak the Language of Love
Why do flowers hold such a special place in the world of gift-giving? It's because they possess the innate ability to convey a wide range of emotions. Whether it's red roses that symbolize deep love or a vibrant bouquet of mixed flowers expressing joy and admiration, flowers speak a language that transcends words. They communicate feelings in a way that is universally understood, making them the perfect messengers.
That's why when we say, "Flowers are love's truest language," we acknowledge the timeless ability of these delicate blooms to express love with grace and eloquence.
Personal Stories of Connection
To understand the enchantment of giving flowers "just because," we turn to personal stories. Countless individuals have experienced the joy of both giving and receiving these spontaneous gifts of nature. These anecdotes reveal the depth of emotion that a simple bouquet can evoke: tears of happiness, warm smiles, and heartfelt embraces. It's in these moments that we witness the true magic of flowers, as they create cherished memories and strengthen the bonds of love and affection.
Just Because Flowers from Fiesta Flowers, Plants, & Gifts
At Fiesta Flowers, Plants, & Gifts, we believe in the power of flowers to convey emotions, brighten days, and create lasting memories. Our "Just Because" flower collection embodies spontaneity, thoughtfulness, and the enchantment of surprise.
Imagine the joy of receiving a stunning bouquet of fresh, vibrant blooms when you least expect it. That's the magic of our "Just Because" flowers. Whether you want to express your love, appreciation, gratitude, or simply remind someone that you care, our handcrafted arrangements are designed to deliver your sentiments with elegance and grace.
This vibrant ensemble features a captivating blend of nature's finest, including hot pink Carnations, sunny yellow Asiatic Lilies, and the warmth of orange Roses. Daisies, whose shade may vary to add delightful spontaneity, and the sunny disposition of yellow Solidago further enrich this joyful arrangement. Our Color Burst Bouquet is an embodiment of joy, a radiant declaration that life is a celebration and that each moment is an opportunity to embrace the beauty that surrounds us.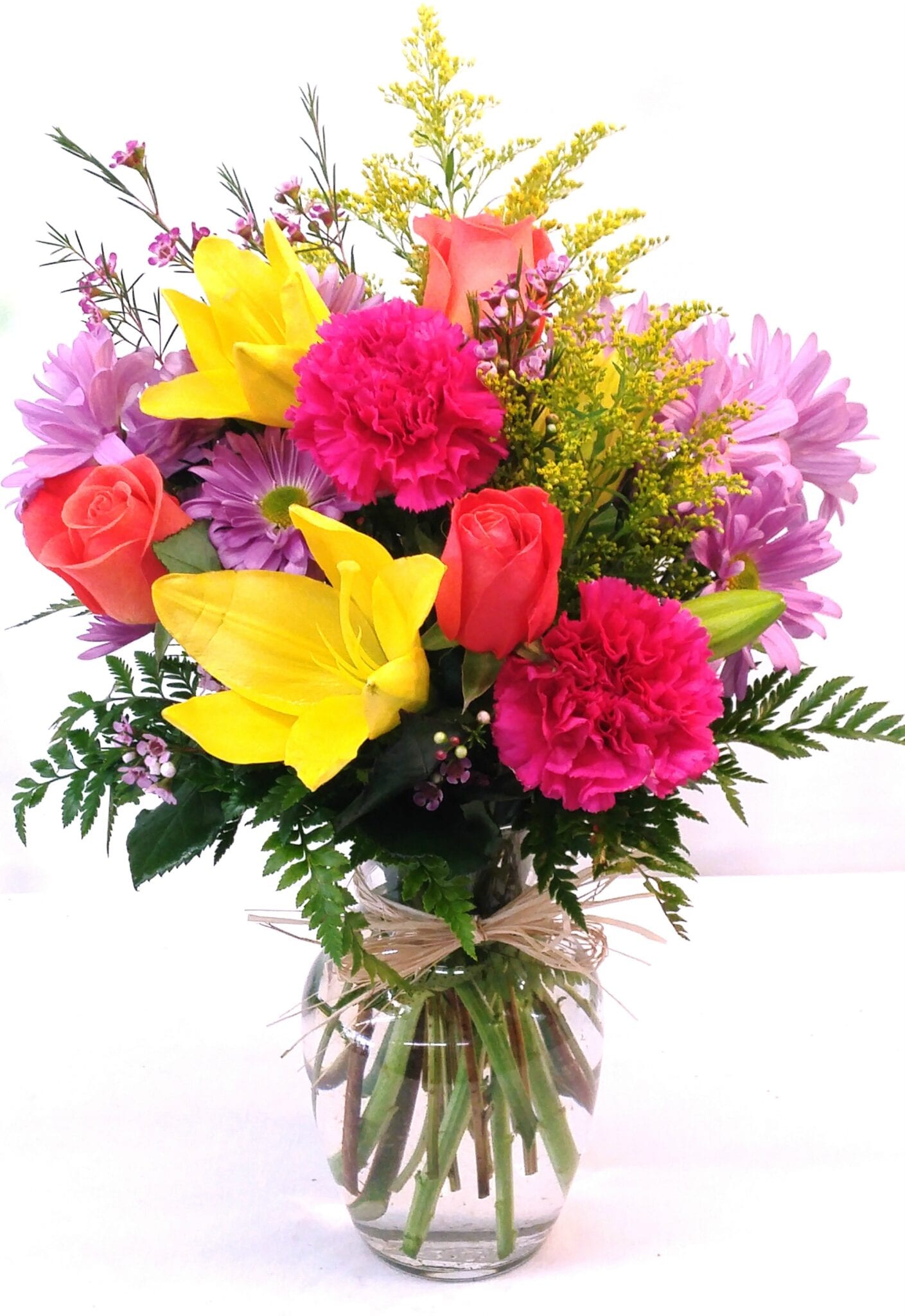 Hot pink Roses and Mini Carnations take center stage, their petals capturing the essence of passion and affection. Yellow Alstroemeria adds a touch of sunshine, while the delicate pink Asiatic Lily lends an air of elegance. The azure hues of blue Delphinium stand like a clear summer sky, adding depth and tranquility to the arrangement.
All these stunning blooms find their home in a crystal-clear rectangular vase, a vessel that showcases their beauty without distraction. To add an extra touch of charm and sophistication, a hot pink, satin ribbon encircles the vase, completing the design with a flourish.
This creation is more than just a bouquet; it's a visual symphony of colors and shapes, a harmonious blend of nature's wonders that speaks to the heart.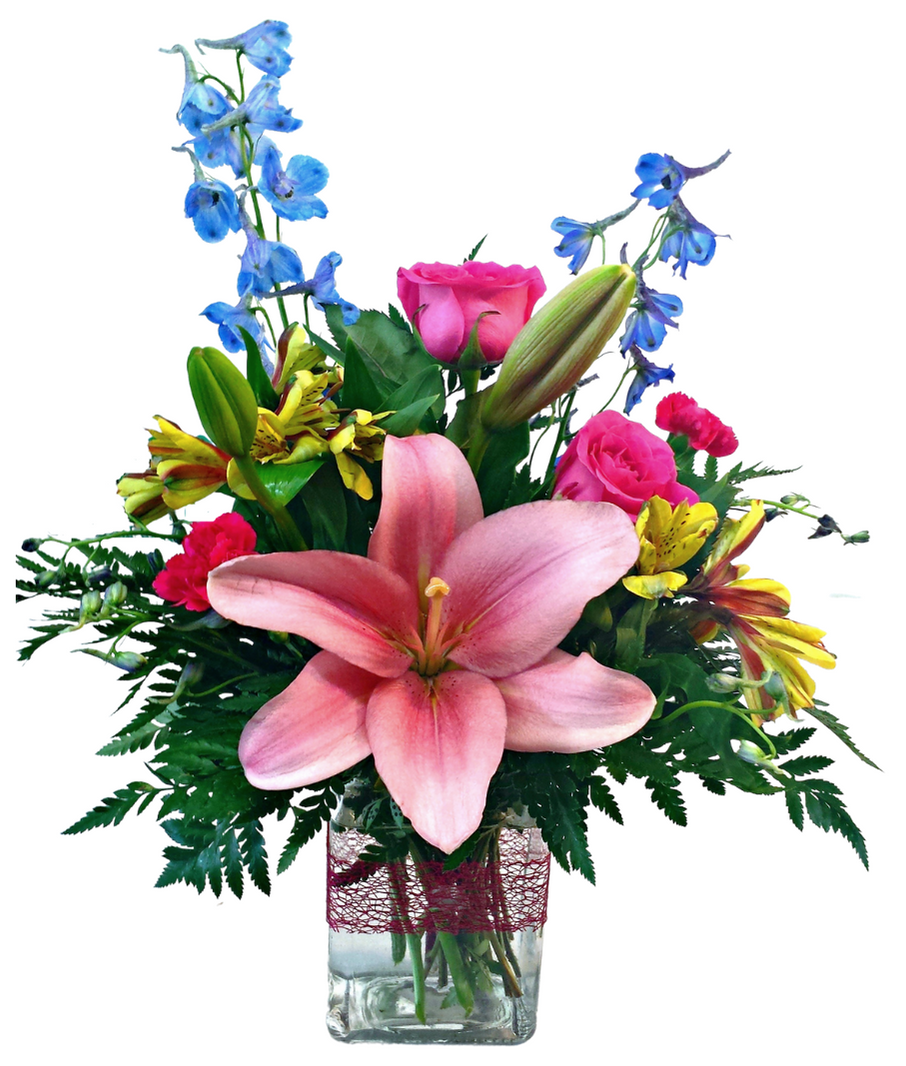 This arrangement is a testament to the exuberant beauty of nature's bounty, designed to evoke smiles and uplift spirits.
In this vibrant bouquet, you'll discover the striking elegance of Iris blossoms, the timeless charm of Roses, and the whimsical allure of Snapdragons. The cheerful disposition of Alstroemeria and the golden accents of Solidago complete this lively symphony of colors and fragrances.
As the name suggests, "Embrace Happiness!" is more than just a floral arrangement; it's a radiant celebration of life's simple pleasures.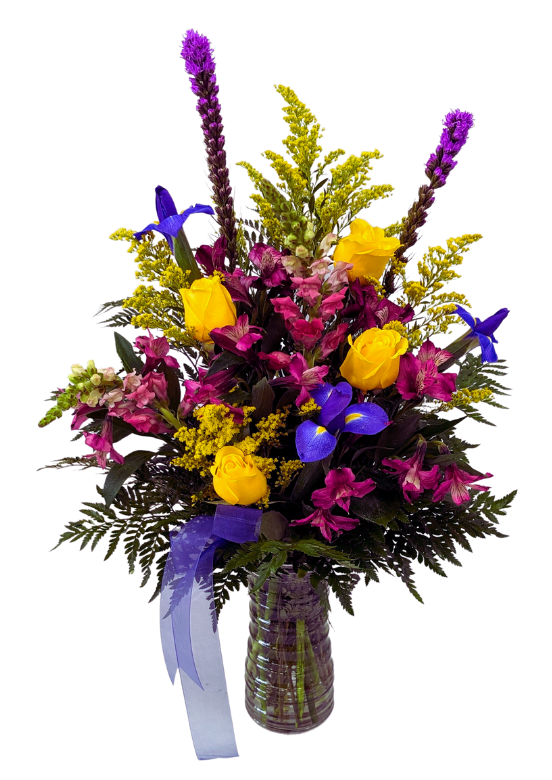 Explore more of our exquisite selection of Just Because blooms and arrangements by visiting our website at https://www.fiestaflowersaz.co... or our welcoming store located at 744 W. Elliot Road, Suite 103, Tempe, AZ 85284.
For personalized assistance and inquiries, feel free to reach out to our dedicated team at 480-777-0060. We look forward to serving you and helping you create memorable moments with the gift of flowers.