You don't have to be a poet to express your love for someone. You can simply send flowers.
You don't have to be a poet to express your love for someone. You can simply send flowers.
However, don't settle for any flower. If you want your flowers to proclaim your love for your special someone, it doesn't hurt to choose the flowers that best symbolize your love.
Visit Fiesta Flowers Plants and Gifts. With their help, you can use the right flowers to send a romantic message that is just as touching as a beautiful love poem.
Flowers that Express Romantic Love
The following flowers are popular expressions of romantic feelings:
Roses
Red Roses are a widely accepted symbol of love and passion. However, a Rose, regardless of its color, symbolizes one kind of love or another. A white Rose, for example, demonstrates young and innocent love. A yellow Rose expresses friendship. A pink Rose shows deep admiration. A lavender Rose tells somebody that you find her enchanting.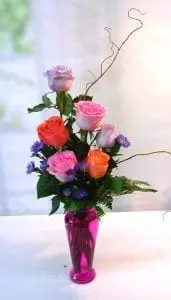 It's also a good idea to take note of the kind of Roses your loved one prefers. If you know that they are particularly fond of pink Roses – and you send these – you are telling them that you care enough to go out of your way to find out and give them what they like.
Tulips
Red Tulips symbolize perfect love. If you want to show your loved one that you find the love you have for one another as absolutely perfect, send Tulips. You can give her an all-Tulip bouquet. Or you can give her a traditional Rose bouquet – and tuck in a few Tulips to emphasize the love and passion that fill your heart.
Orchids
Orchids are exotic, delicate, and sophisticated flowers.
You may not realize that Orchids have a hidden romantic meaning. They stand for exotic seduction.
If you want to be bold and daring, go ahead and send Orchids to your loved one or love interest. They tell the recipient how strongly you are attracted to them. They show the person how much you desire and yearn for them.
Daisies
People in love tend to think of love when they think of Daisies. The Daisy game "they love me – they love me not" is highly popular. People use a Daisy to tell whether the person they love loves them back. You pluck at a Daisy's petals one by one, hoping that the last petal coincides with "they love me."
You often find Daisies in romantic bouquets sent out during Valentine's Day. Symbolizing devotion and faithfulness, they are also popular in bouquets created to celebrate wedding anniversaries.
Carnations
Carnations are amazing flowers! They can last over a month and come in many, many color choices. Pink Carnations represent love but they are often sent during Mother's Day. If you want to express romantic love, it is better to use red Carnations.
Jasmine
Jasmine is another romantic flower. This flower with a lovely perfume shows grace and elegance. It also signifies love and physical attraction.
Peonies
On their own, Peonies don't express strong romantic feelings. However, florists often include them when they create romantic bouquets.
Peonies indicate richness and opulence. Coupled with other romantic flowers, they serve to underline the love that you are trying to convey.
Fiesta Flowers, Plants & Gifts is the go-to Florist for people who want floral arrangements especially created to demonstrate romantic love. Visit the shop and look for flowers that best express your love message.