Gifts for New Moms and Dads
1. Parenting Books
New parents often experience anxiety and self-doubt. Parenting books can boost their confidence by offering guidance and solutions to common parenting challenges. It provides valuable information and advice on various aspects of child-rearing, from newborn care to toddlerhood and beyond. They can help new parents understand the physical, emotional, and developmental needs of their child, empowering them to make informed decisions.
2. Baby Care Essentials
Newborns require a lot of supplies such as diapers, wipes, baby clothing, bottles, and baby hygiene products. Having these essentials readily available is crucial for their well-being and comfort. New parents need these items daily, and they can quickly add up in terms of expenses.
Ensure that any baby care essentials you choose meet safety standards. Look for items that are free from harmful chemicals, toxins, or choking hazards. Check for product recalls and do some research if you're unsure about the safety of a particular brand or product.
If you know the parents have specific preferences or have registered for baby items, try to choose items that align with their choices. Some parents may have specific brand preferences or may prefer organic and eco-friendly products.
3. Spa and Self-Care Gifts
Parenthood, especially in the early stages, can be overwhelming and stressful. Spa and self-care gifts provide an opportunity for new parents to relax and unwind, helping to reduce stress and anxiety.
Flowers for New Moms and Dads
Flowers can be a lovely and meaningful gift for new moms and dads, offering a touch of beauty and cheer during an exciting, yet somewhat stressful time.
1. 12, 18 OR 24 Light Pink Roses R-215
Pink roses symbolize feelings of warmth, love, and affection. They convey a sense of tenderness and care, which are essential emotions for welcoming a new baby into the family. Choose from 12, 18, or 24 delicate, long-stemmed roses artfully arranged in a charming vase. Each arrangement is thoughtfully adorned with accent flowers, lush greenery, and a perfectly coordinated light pink, satin bow, adding a touch of elegance and grace to your gift.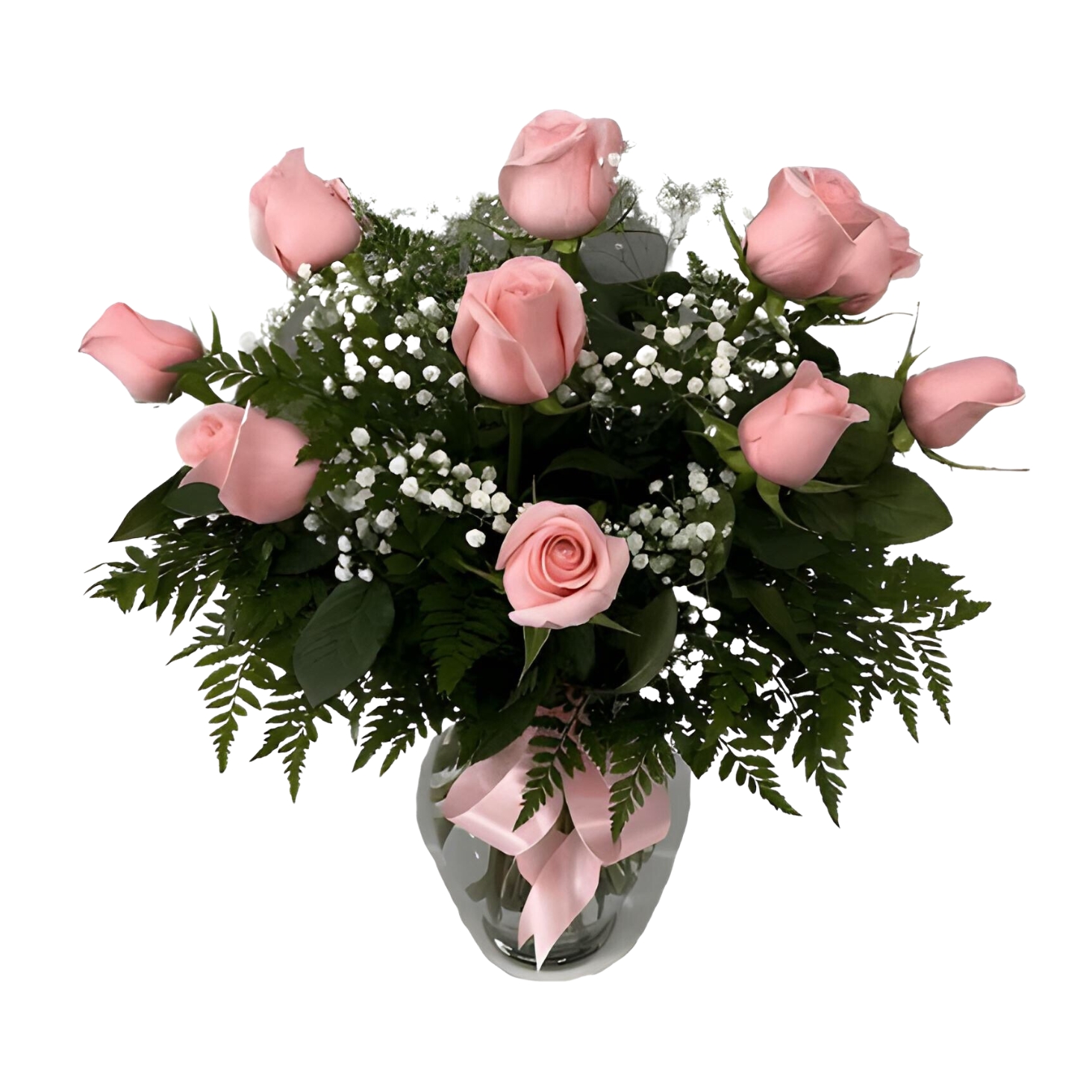 2. Yellow Sunburst Topiary IF-5014
Celebrate the radiant journey of parenthood with our Yellow Sunburst Topiary, a truly exceptional and beloved gift arrangement. This distinctive topiary is a masterpiece, featuring the stunning beauty of yellow Alstroemeria, skillfully bound together with a sunny yellow ballet tie ribbon, and adorned with a joyful butterfly.
At the base of our topiary, you'll find a bed of golden yellow Alstroemeria and delicate white Baby's Breath, all thoughtfully presented in a matching yellow keepsake tin that perfectly complements the ribbon's bright hue.
The Yellow Sunburst Topiary exudes warmth and happiness, making it an unforgettable gift that captures the spirit of joy and togetherness for new moms and dads embarking on this remarkable journey.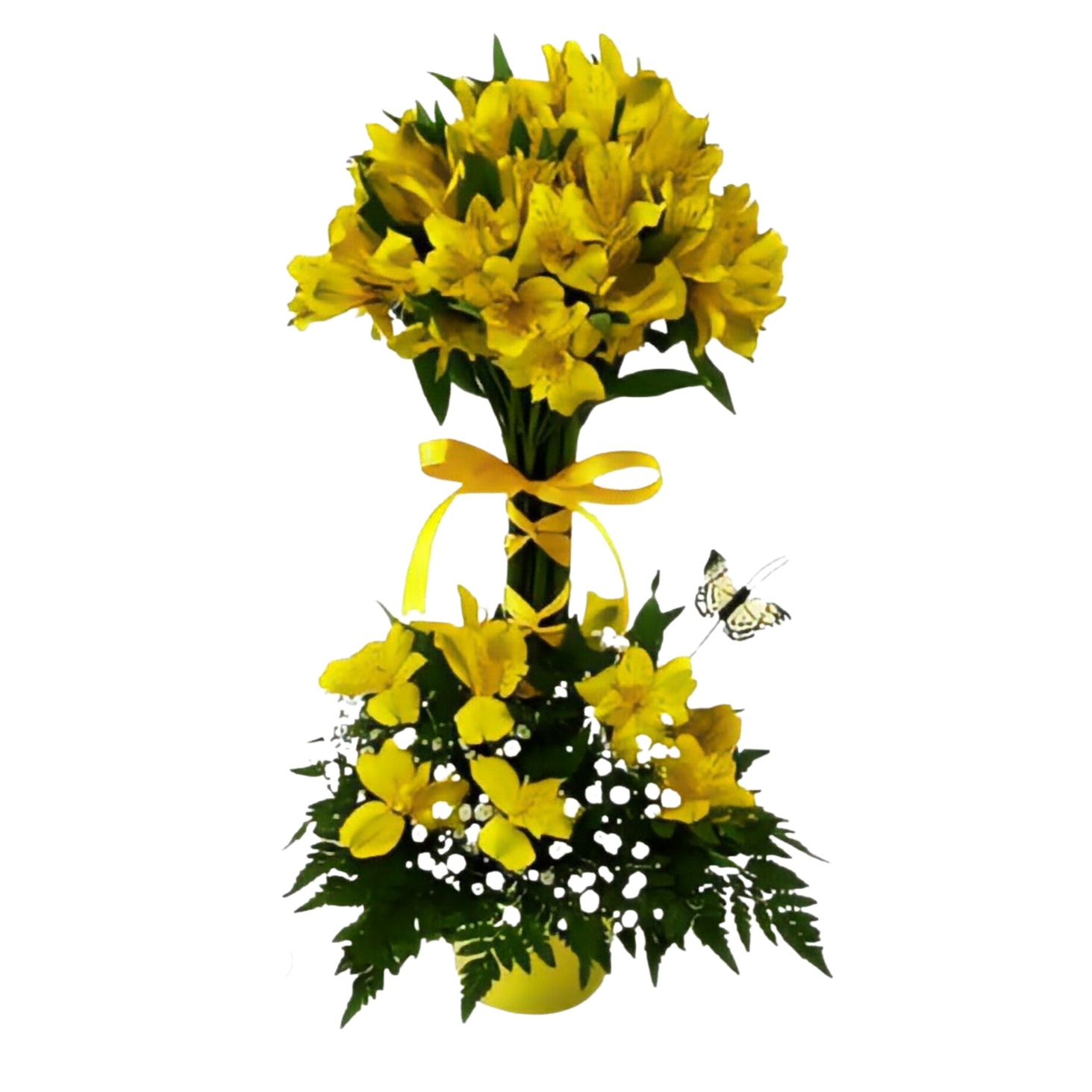 This enchanting arrangement has a harmonious blend of blooms, including vibrant blue Delphinium, delicate Roses, and the soft beauty of pink Astilbe, all complemented by the graceful presence of Alstroemeria and the dreamy blue allure of Hydrangea. To add a touch of opulence, we've adorned this masterpiece with Italian Ruscus and exotic greens, creating a captivating visual display.
All of these stunning elements are lovingly presented in cylindrical, clear glass vase, which features a ribbon detail to elevate its charm. Please note that ribbon style and color may vary, adding an element of surprise and uniqueness to your gift.
"Beautiful in Blue" is not just a bouquet; it's a heartfelt expression of your love and warmest wishes to the new parents.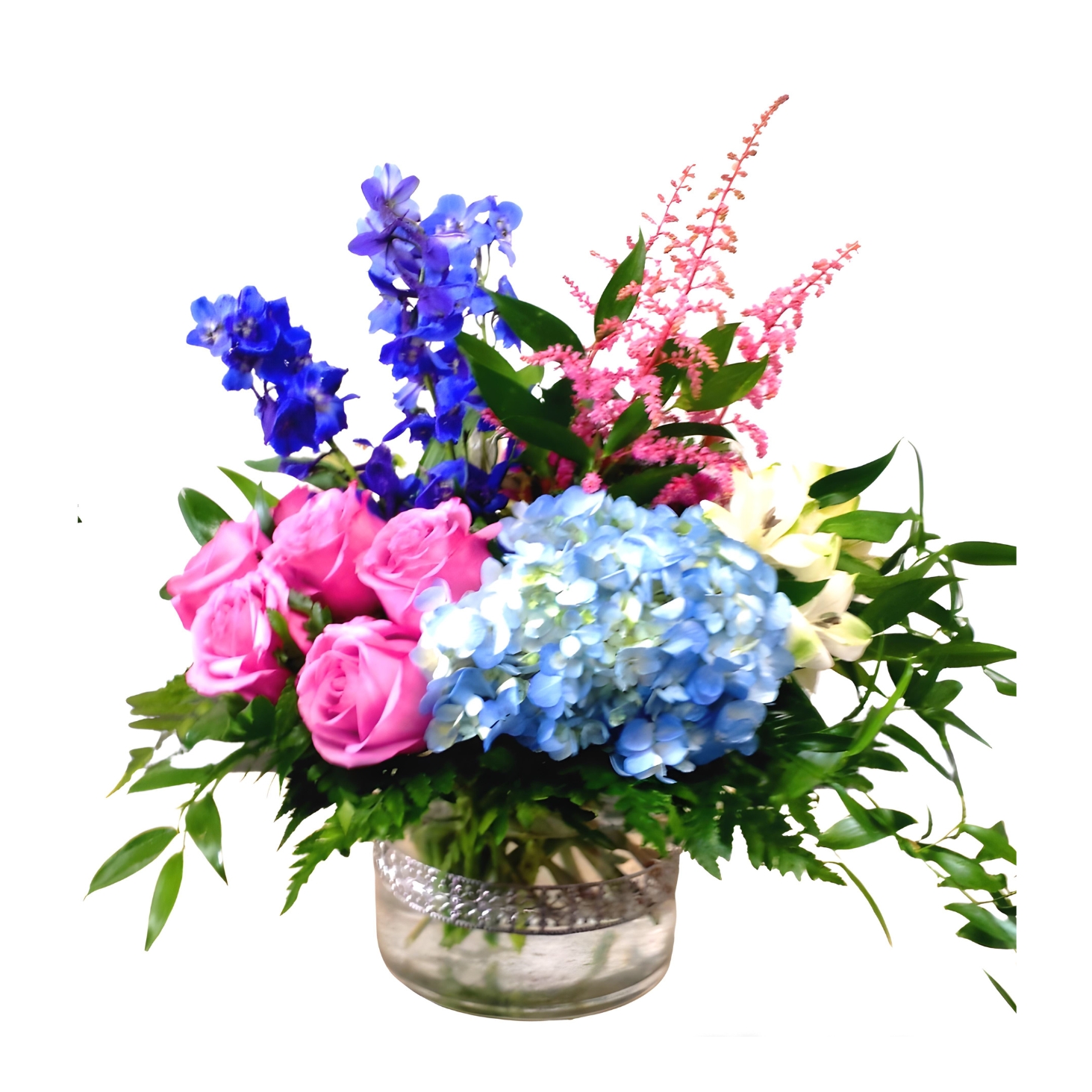 Our "Sweet Clouds" features a delicate and dreamy composition, starring the ethereal beauty of baby's breath, the timeless elegance of white roses, and the charming allure of white mini carnations. To add a touch of sophistication, we've incorporated silver dollar eucalyptus, which lends an air of refinement and freshness to the arrangement.
All of these enchanting elements are gracefully presented in a chic wood box, elevating the presentation and adding a touch of rustic charm. This arrangement is a breathtaking cloud of flowers, a symbol of the purity and joy that a new baby brings into the world.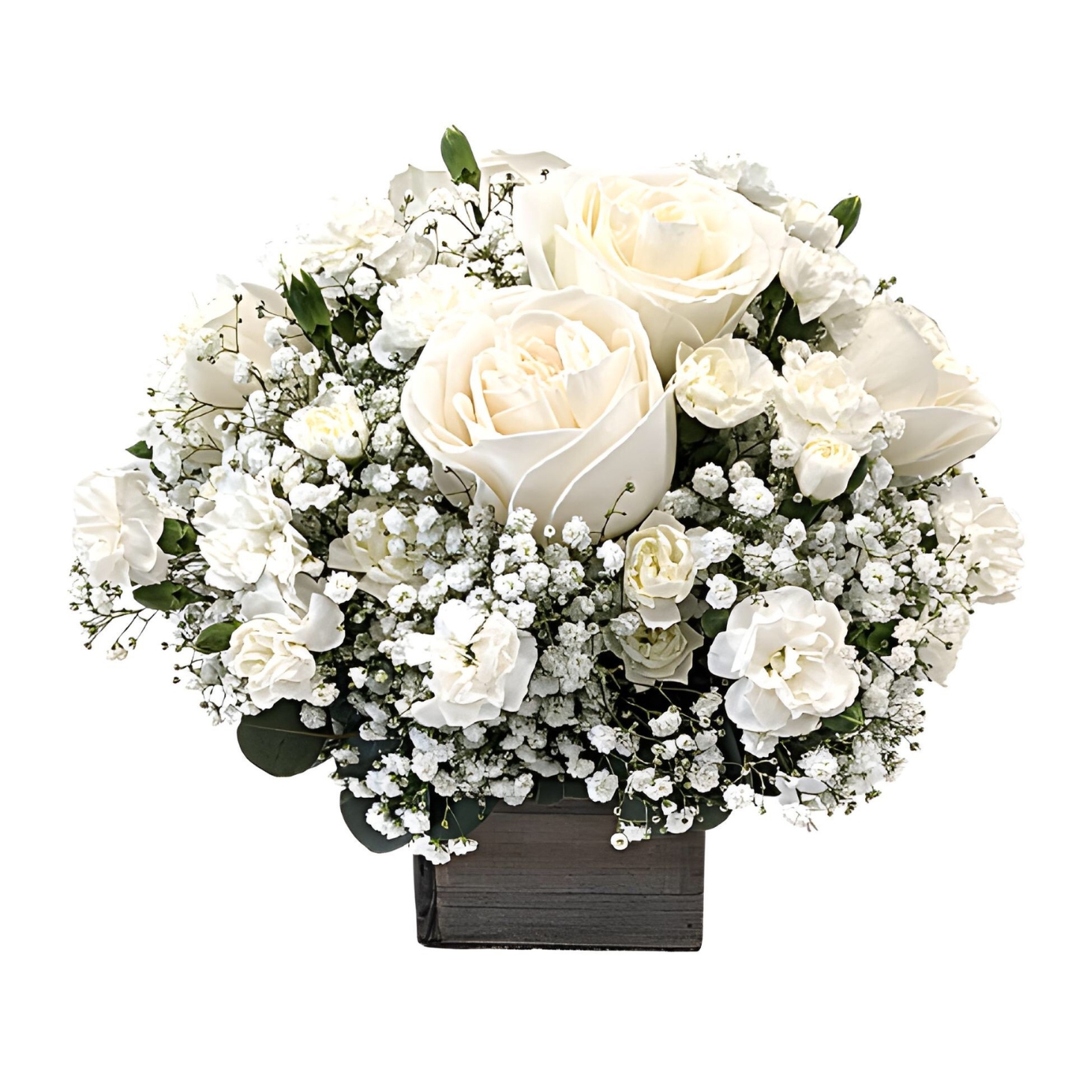 The bouquet itself features a harmonious blend of vibrant and soothing colors, making it an ideal gift for both parents. Blue Delphinium blooms add a touch of tranquility. Yellow Roses symbolize the warmth and happiness a new baby brings into their lives. Green Athos Mums signify growth and vitality, reflecting the journey of watching their little one flourish. White Daisies, with their pure petals, symbolize the innocence and purity of the newborn.
To tie it all together, a dark teal ribbon wrap adds a touch of elegance and sophistication, signifying the depth of emotions that come with parenthood.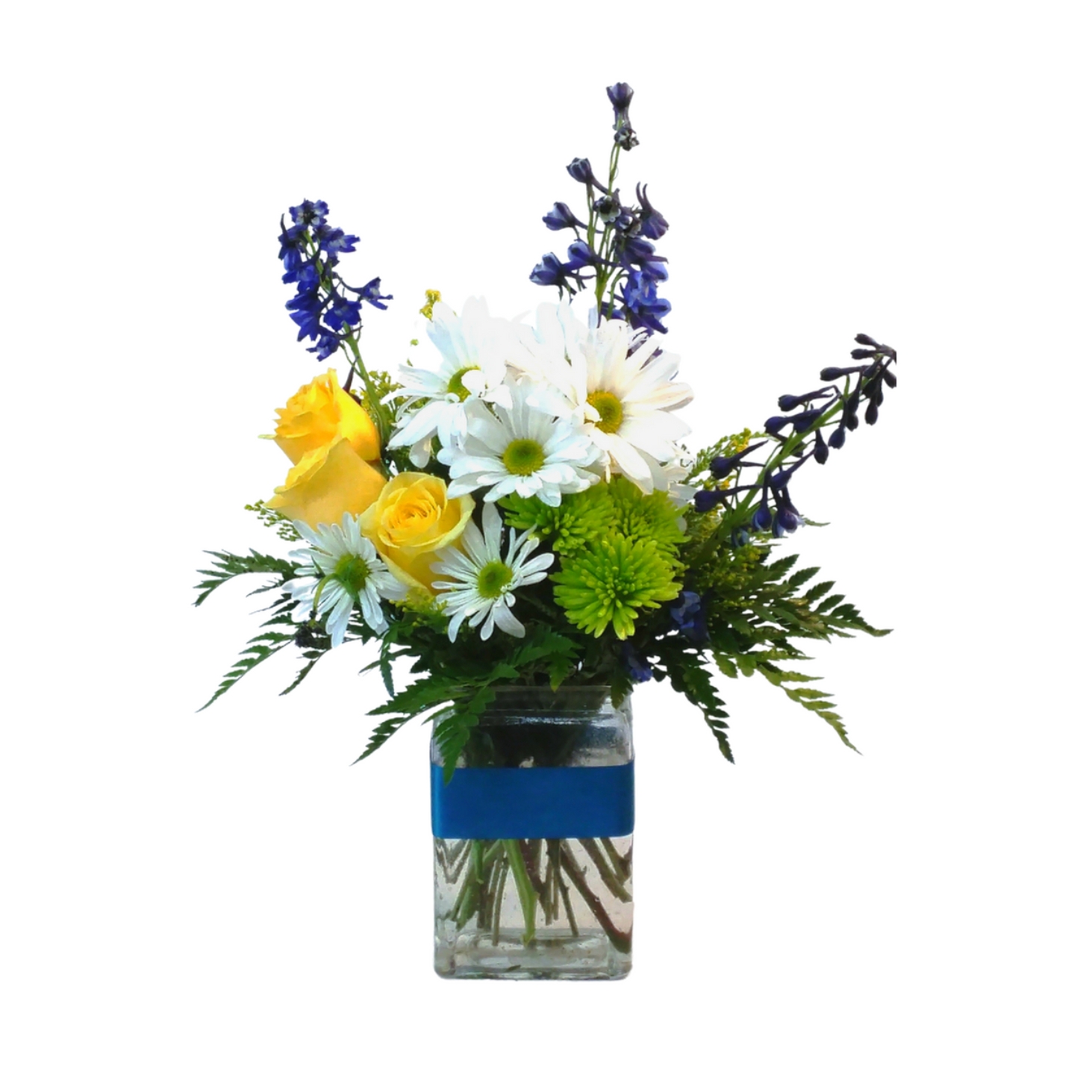 Same-Day Delivery by Fiesta Flowers, Plants & Gifts
Fiesta Flowers, Plants & Gifts offers the perfect solution for those special moments when you want to celebrate and show your love and support for new moms and dads in Arizona. With our same-day delivery service, you can trust us to deliver beautiful flower arrangements that will brighten their day and express your warmest congratulations. Whether it's the arrival of a precious baby or the joy of parenthood, our flowers convey your heartfelt wishes with every bloom. Choose Fiesta Flowers, Plants & Gifts to make those unforgettable moments even more special.
Explore more of our exquisite selection of New Baby flower arrangements by visiting our website at https://www.FiestaFlowersAZ.co... or our welcoming store located at 744 W. Elliot Road, Suite 103, Tempe, Arizona 85284.
For personalized assistance and inquiries, feel free to reach out to our dedicated team at 480-777-0060. We look forward to serving you and helping you create memorable moments with the gift of flowers.