Thanksgiving Beyond Borders
In a world where our loved ones may be scattered far and wide for various reasons, it becomes essential to explore innovative ways to celebrate the season together, even when miles apart. The adage "love knows no distance" holds particularly true during Thanksgiving, where expressing gratitude can take on a colorful form—through the language of Thanksgiving flowers.


Choosing the Perfect Thanksgiving Flowers
When selecting the perfect Thanksgiving bouquet for our long-distance loved ones, the goal is not just to send flowers but to create a vibrant and tangible celebration that transcends the miles. The intention is clear: to make them feel intimately connected, appreciated, and loved, as if we were right there beside them during the Thanksgiving festivities. Here are some essential factors to consider when choosing the perfect Thanksgiving flowers:
1. Personal Tastes: Think about the recipient's individual preferences. What flowers resonate with them? Do they have a favorite color or a specific bloom that holds sentimental value? Tailoring the bouquet to their personal tastes ensures that the gift feels uniquely suited to their style and personality.
2. Symbolic Blooms: Consider the language of flowers and the meanings associated with different blooms. Choose flowers that symbolize gratitude, love, and connection. For instance, sunflowers convey adoration and loyalty, while roses are timeless symbols of love. Incorporating these symbolic blooms elevates the bouquet to a deeper, more meaningful level.
3. Add a personal touch: Enhance the emotional impact of the bouquet by adding a personal touch. Include a handwritten note expressing your gratitude and love. Some florists even offer customization options, allowing you to add unique elements that reflect your relationship with the recipient.
4. Longevity: Extend the joy beyond Thanksgiving Day by choosing flowers with a longer lifespan. Opt for varieties that boast durability, ensuring that the bouquet remains a source of beauty and remembrance in the days and weeks following the holiday.
Same-Day Delivery Thanksgiving Flowers from Fiesta Flowers, Plants & Gifts
In the heart of Arizona, where the sun paints the landscape with hues of warmth, Fiesta Flowers, Plants & Gifts brings an extra layer of vibrancy with their same-day delivery service for Thanksgiving flowers. Whether your loved ones are in Tempe, Phoenix, Tucson, or anywhere in the Grand Canyon State, Fiesta Flowers ensures that your gratitude and love are expressed promptly and beautifully.
•
Autumn Lily & Roses Pumpkin IF-826
Choosing the Harvest Pumpkin bouquet for your long-distance loved one is like sending a piece of the fall season wrapped in love. This carefully crafted arrangement not only captures the essence of autumn but also serves as a tangible connection between you and your cherished recipient, despite the physical distance.
The keepsake ceramic pumpkin vase adds a touch of sentimentality, transforming the bouquet into a lasting symbol of your affection. The vibrant mix of red or orange lilies, red roses, and seasonal mums creates a visually stunning and luxurious display, mirroring the warmth and abundance associated with Thanksgiving.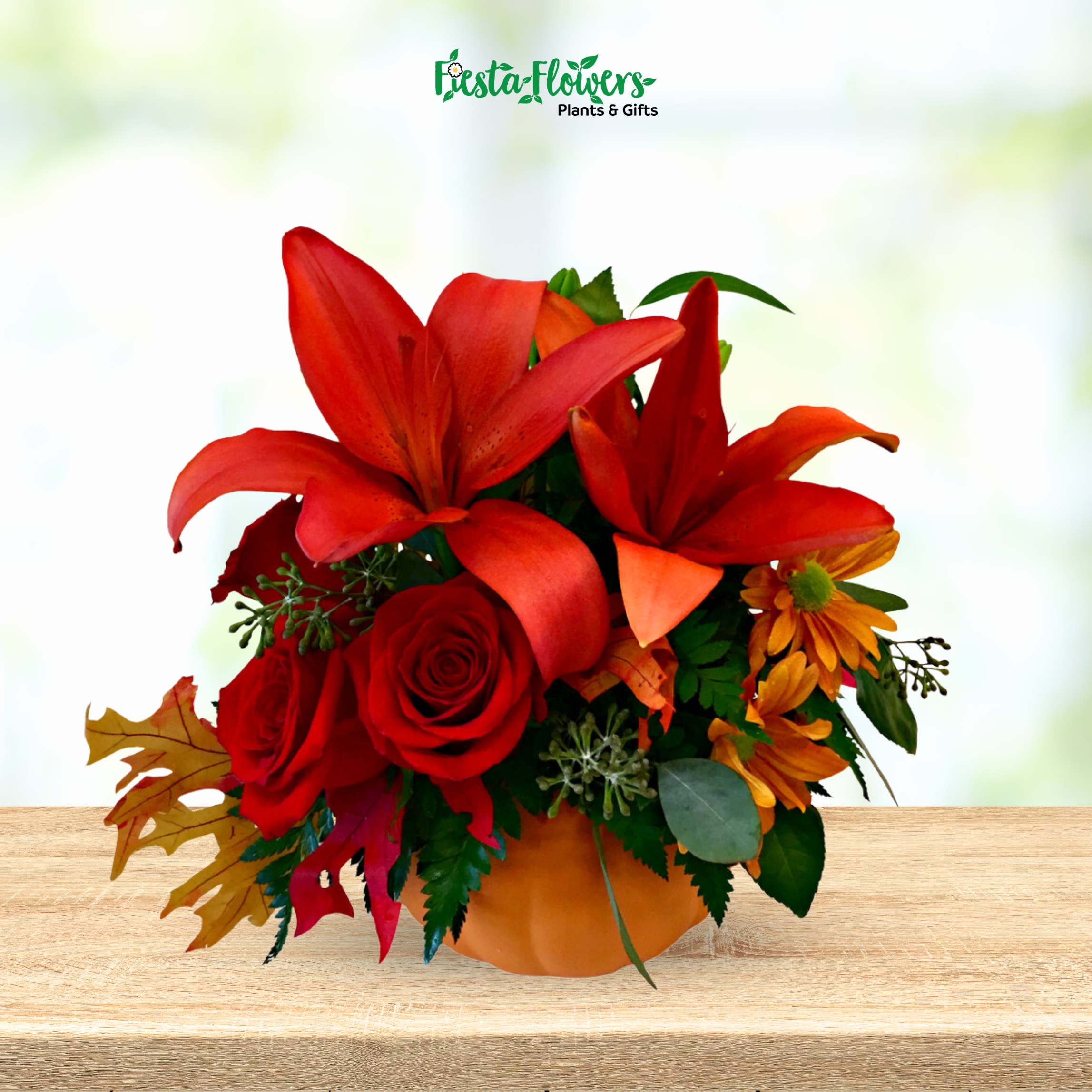 Send a heartfelt embrace of Thanksgiving directly to your loved one's home with Harvest Harmony. The rich hues and aromas that characterize the season will greet them as they unwrap this stunning arrangement.
Featuring a rich array of autumnal hues. Red roses, the quintessential symbol of love, intertwine with the fiery brilliance of orange carnations. Vibrant orange snapdragons stand tall, exuding the energy of the season, while rich burgundy daisies add a touch of rustic charm. It becomes a sensory experience that transcends the miles, bringing the spirit of Thanksgiving and the coziness of Fall right into their living space.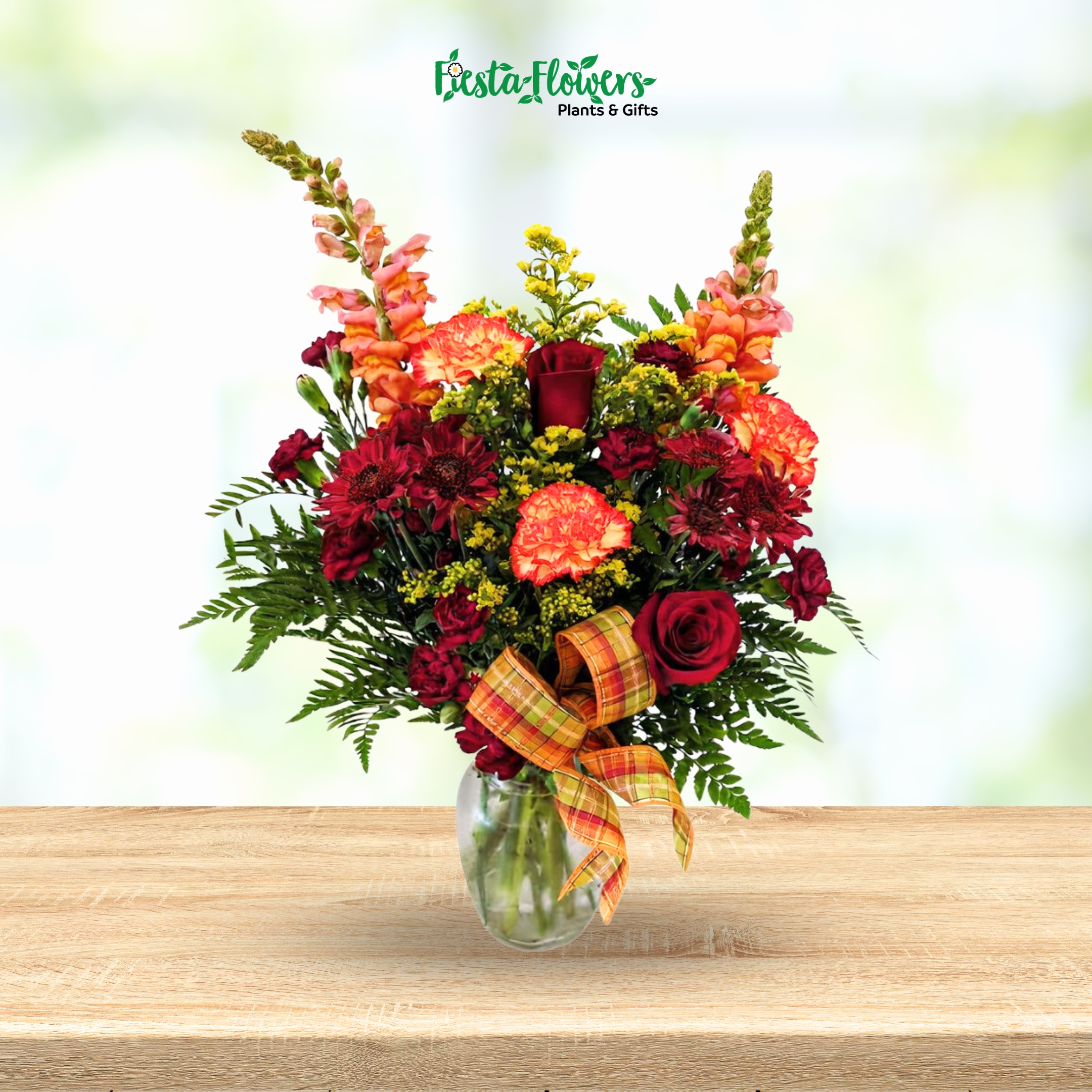 • Harvest Shimmer Centerpiece IF-864
This Thanksgiving, bridge the distance with the breathtaking beauty of Harvest Shimmer! A seasonal work of art designed to dress their fall table with elegance and warmth, this hand-delivered masterpiece arrives in a stunning copper rectangle. A harmonious mix of Viking mums, orange roses, red alstroemeria, spiral eucalyptus, grevalia, fern, and preserved oak leaves, Harvest Shimmer promises to make their season truly memorable, bringing the essence of Thanksgiving straight to your long-distance loved one.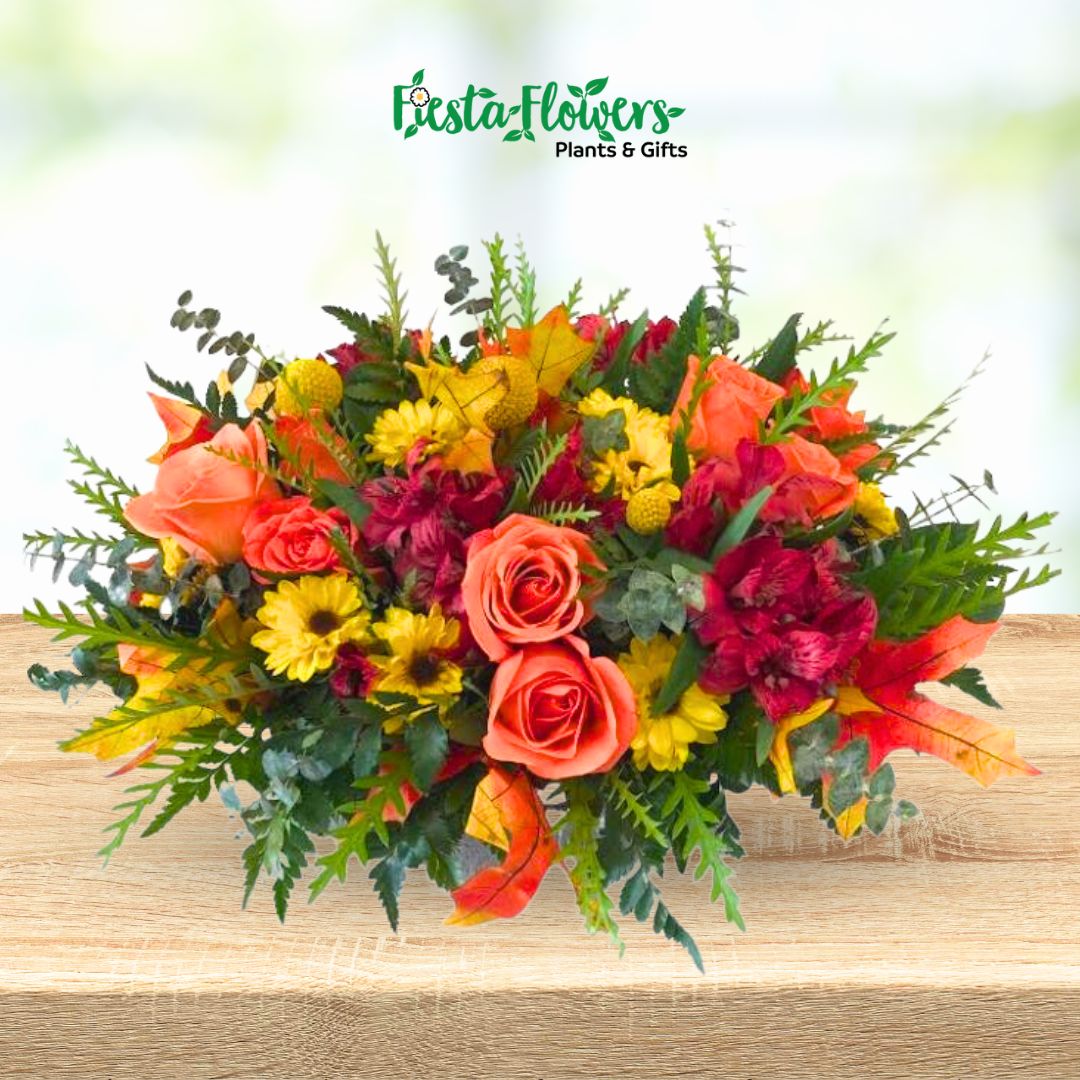 Celebrate the beauty of fall and send a burst of autumn joy to your long-distance loved one with our Wild Autumn Bouquet. This breathtaking arrangement captures the liveliness of the season with its vibrat colors and rich textures. Featuring a harmonious blend of red roses, sunset lilies, Agonis, yellow solidago, fuchsia alstroemeria, larkspur, and silver dollar eucalyptus, this bouquet is a gorgeous gift that will infuse the spirit of autumn into their home all season long.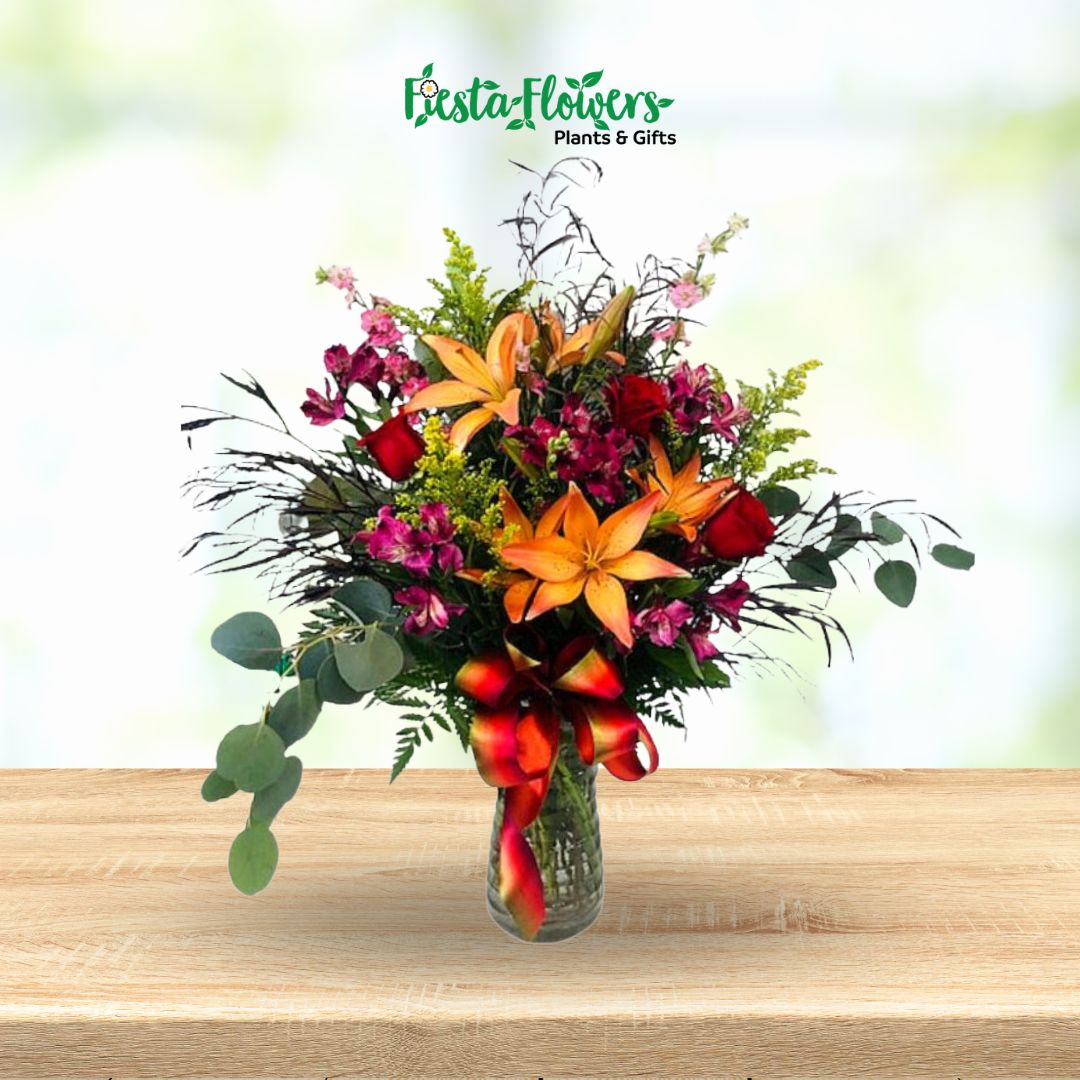 • Harvest Sunrise Pumpkin H-7077
Embrace the spirit of autumn and convey a sincere sentiment to your distant loved one by gifting our Autumn Lilies and Roses Cube. This captivating ensemble showcases the comforting allure of orange Asiatic lilies and the cheerful brilliance of yellow roses, beautifully arranged in a cube embellished with an orange ribbon. This charming present is guaranteed to infuse a dash of fall enchantment and bring heartfelt warmth to your loved one's Thanksgiving celebration.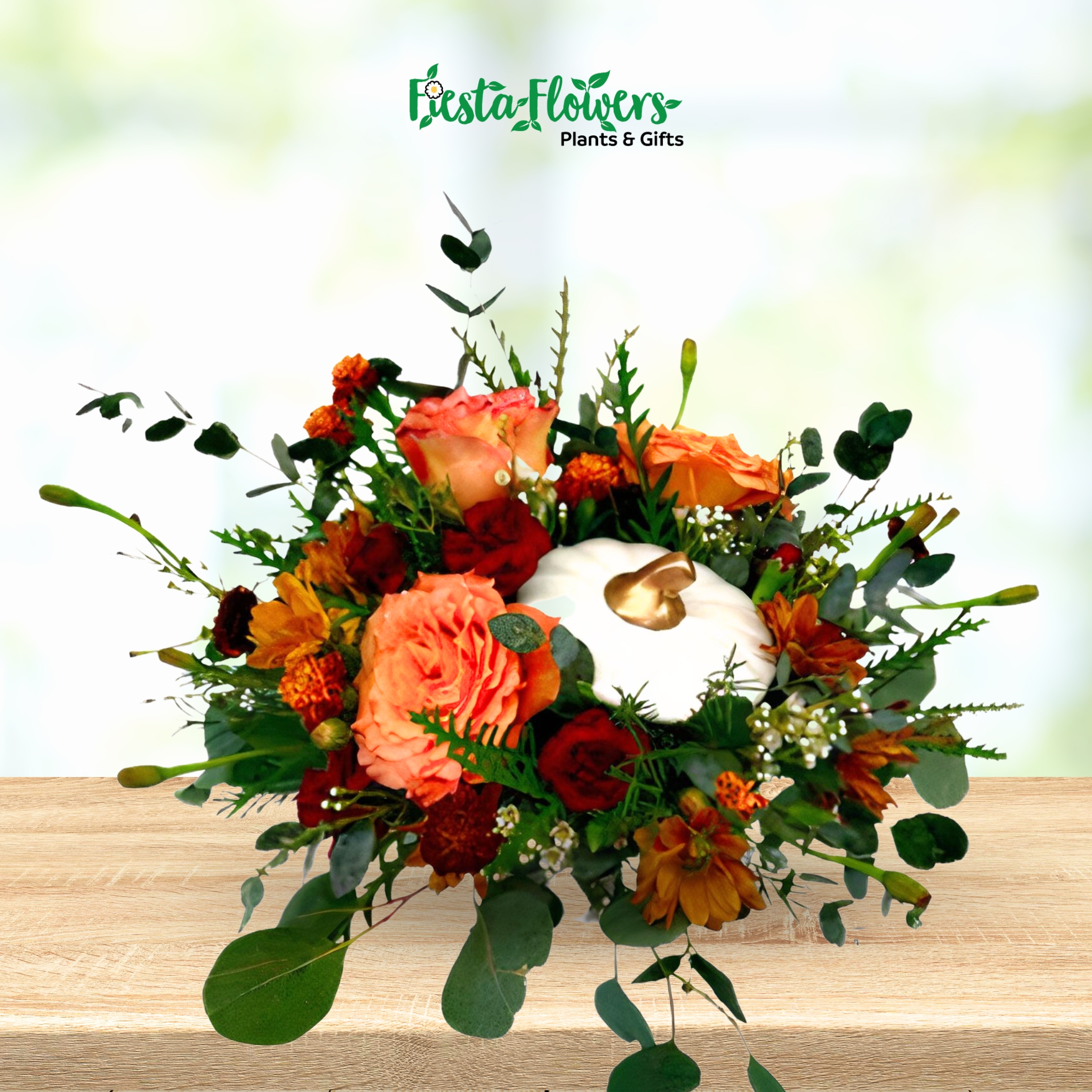 Perfect Pairings to Accompany Thanksgiving Flowers for Your Long-Distance Loved One
Beyond the thoughtful gesture of sending flowers, these pairings add an extra layer of love, creating a sensory experience that transcends miles and brings the essence of the season directly to their doorstep.
1. Heartfelt Card: Express your emotions with a personalized card, where words become a bridge connecting hearts across the miles. Share your gratitude and love, making this Thanksgiving bouquet a truly meaningful gift.
2. Scented Candles: The flickering candlelight and inviting aroma will create a cozy ambiance, making your loved one feel surrounded by the comforting scents of the holidays.
3. Framed Photo: Capture a cherished moment in a frame, turning a photograph into a timeless keepsake. This personal touch adds a nostalgic element to your gift, reminding them of the shared moments that make your connection special.
4. Unique Keepsake: Make the occasion unforgettable with a personalized keepsake—a custom ornament or a piece of jewelry. This thoughtful touch ensures that your Thanksgiving gesture becomes a cherished memory.
5. Chocolates: The rich, indulgent flavors will complement the warmth of Thanksgiving and add a touch of sweetness to the celebration.
Send Thanksgiving Flowers to Your Long-Distance Loved Ones
As we navigate the complexities of modern life, Thanksgiving becomes a celebration that extends beyond borders. Through the timeless tradition of sending Thanksgiving flowers, we weave a tapestry of love, gratitude, and shared moments that transcends the limitations of geography. In every bloom, we find a reminder that love knows no distance and that Thanksgiving can be celebrated with joy, even when miles apart.
Fiesta Flowers, Plants & Gifts extend warm greetings to everyone, wishing you an advanced Happy Thanksgiving. May this season be adorned with the beauty of gratitude and the shared warmth of cherished moments.