What Makes A Floral Centerpiece Essential During Thanksgiving?
A flower centerpiece serves as a symbolic and aesthetic element that enhances the Thanksgiving celebration in several meaningful ways.
1. Visual Appeal: The lively and cheerful appearance of flowers adds warmth and charm to the overall Thanksgiving setting.
2. Seasonal Connection: Thanksgiving is deeply rooted in the harvest season, and flowers can be chosen to reflect the colors and themes associated with autumn.
3. Expresses Gratitude: Flowers, with their natural elegance, serve as a symbol of gratitude and appreciation. Incorporating them into the Thanksgiving table decor becomes a tangible expression of thanks for the blessings, joy, and company of loved ones.
4. Sets the atmosphere: The right flower centerpiece can contribute to the overall ambiance of the celebration.
5. Completes the Table Setting: A flower centerpiece adds the finishing touch, completing the overall aesthetic and making the table setting feel thoughtfully curated and inviting.
6. Cultural Significance: In various cultures, flowers are often associated with positive symbolism, such as renewal, growth, and life.
How Do I Choose The Perfect Flower Centerpiece?
Selecting the perfect centerpiece for Thanksgiving involves a thoughtful blend of seasonal elements, aesthetics, and practical considerations.
• Consider the table size: Match the size of the centerpiece to the dimensions of your dining table. A larger table may accommodate a more substantial arrangement, while a smaller table benefits from a more modest centerpiece.
• Coordinate with Tableware: Ensure that the colors and style of your centerpiece complement your tableware and overall table decor. A cohesive look ties the entire table setting together.
• Consider Allergies in the Family: Take into account any allergies that family members or guests may have. Opt for flowers and greenery that are less likely to trigger allergies, and if in doubt, consult with family members to ensure a safe and enjoyable dining experience.
• Order Early: To secure the perfect centerpiece and avoid any last-minute stress, place your order early. Florists and online retailers often experience high demand during the holiday season, so securing your centerpiece in advance ensures you get your first choice.
• Match the Candle Color with the Flowers: If you plan to include candles in your centerpiece, coordinate their color with the flowers. This creates a harmonious and visually appealing arrangement. Consider autumnal shades like deep reds, oranges, or warm yellows for a cohesive look.
Best Flower Centerpieces in Arizona
These exquisite arrangements go beyond mere decoration, becoming the centerpiece of your celebrations. Explore our collection and discover the perfect centerpiece to make your moments truly unforgettable.
1. Harvest Shimmer Centerpiece IF-864: Add a touch of enchantment to your fall table with our exquisite Harvest Shimmer centerpiece. Delivered by hand in a stunning copper rectangle vase, this seasonal masterpiece blends viking mums, vibrant orange roses, rich red alstroemeria, gracefully spiraled eucalyptus, grevalia, fern, and preserved oak leaves. Create lasting memories with this harmonious arrangement, capturing the essence of the season in Arizona.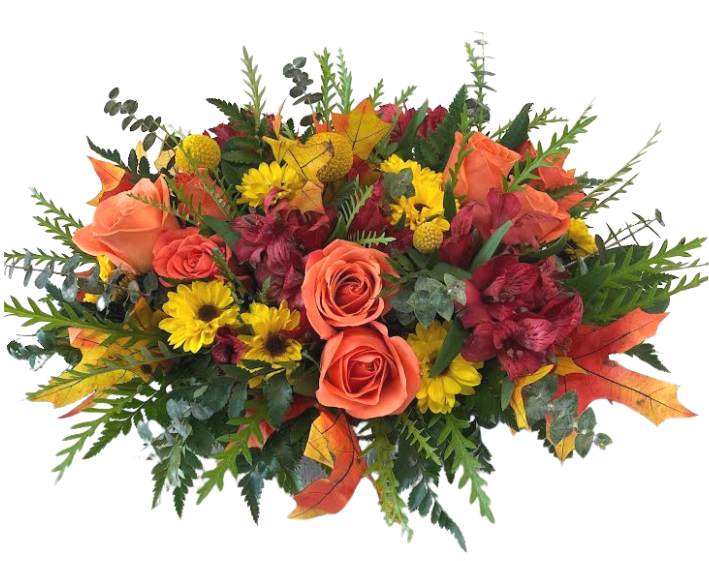 2. Thankful Blessings Centerpiece IF-842: Infuse your autumn table with a touch of seasonal splendor through our Thankful Blessings Centerpiece, thoughtfully designed with two charming taper candles. An ideal complement for your fall gatherings, this centerpiece captures the essence of autumn in Arizona. It showcases the radiant beauty of yellow Asiatic lilies, the velvety allure of eight red roses, and the joyful presence of seasonal mums and bright yellow solidago.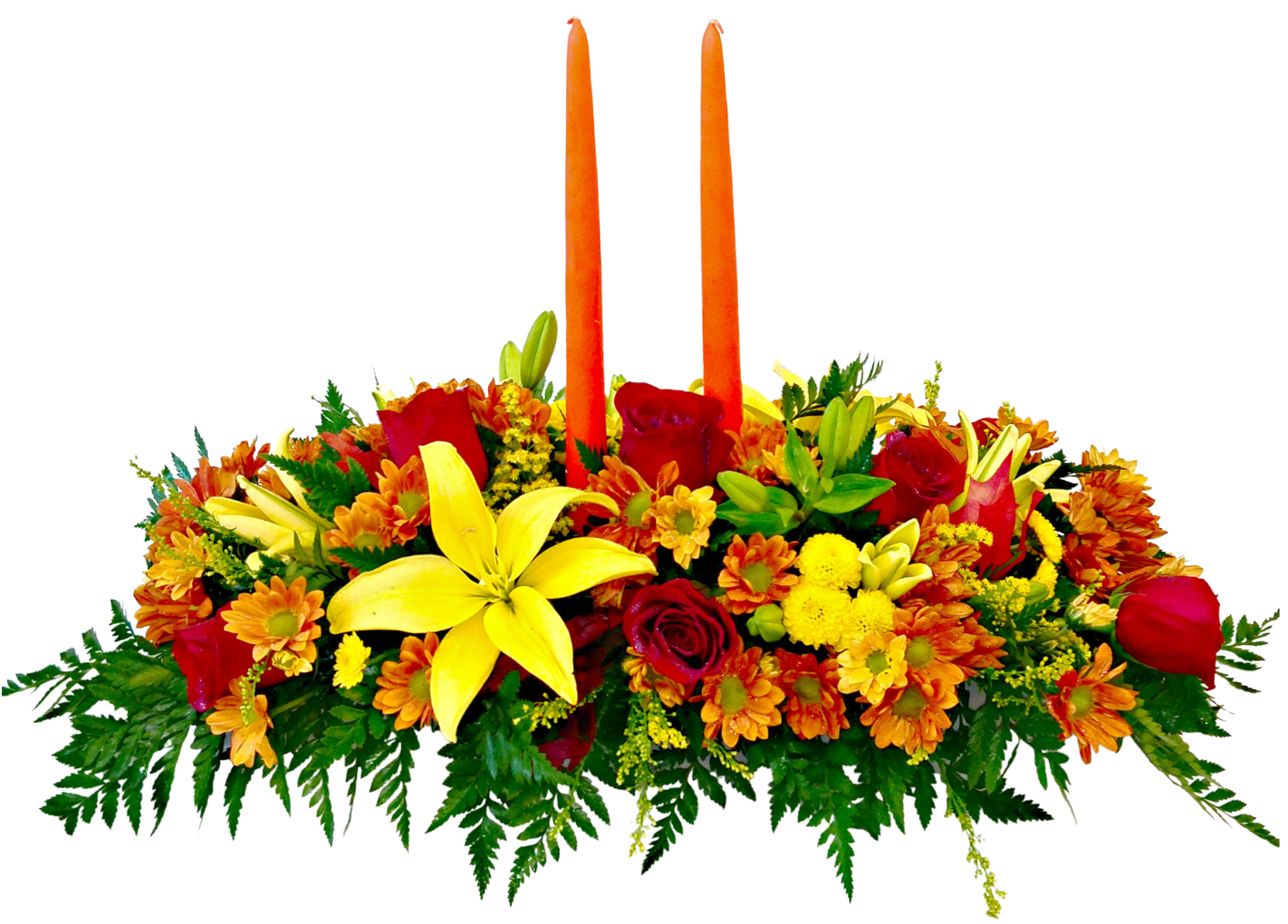 3. Nature's Bounty Centerpiece IF-843: Make your Thanksgiving feast even more memorable with our Nature's Bounty centerpiece gracing your holiday table. This stunning arrangement features a delightful blend of roses, seasonal daisies, and the vibrant hues of solidago and alstroemeria. Celebrate the bountiful spirit of the season with this beautiful centerpiece, a perfect focal point for your Arizona Thanksgiving celebration.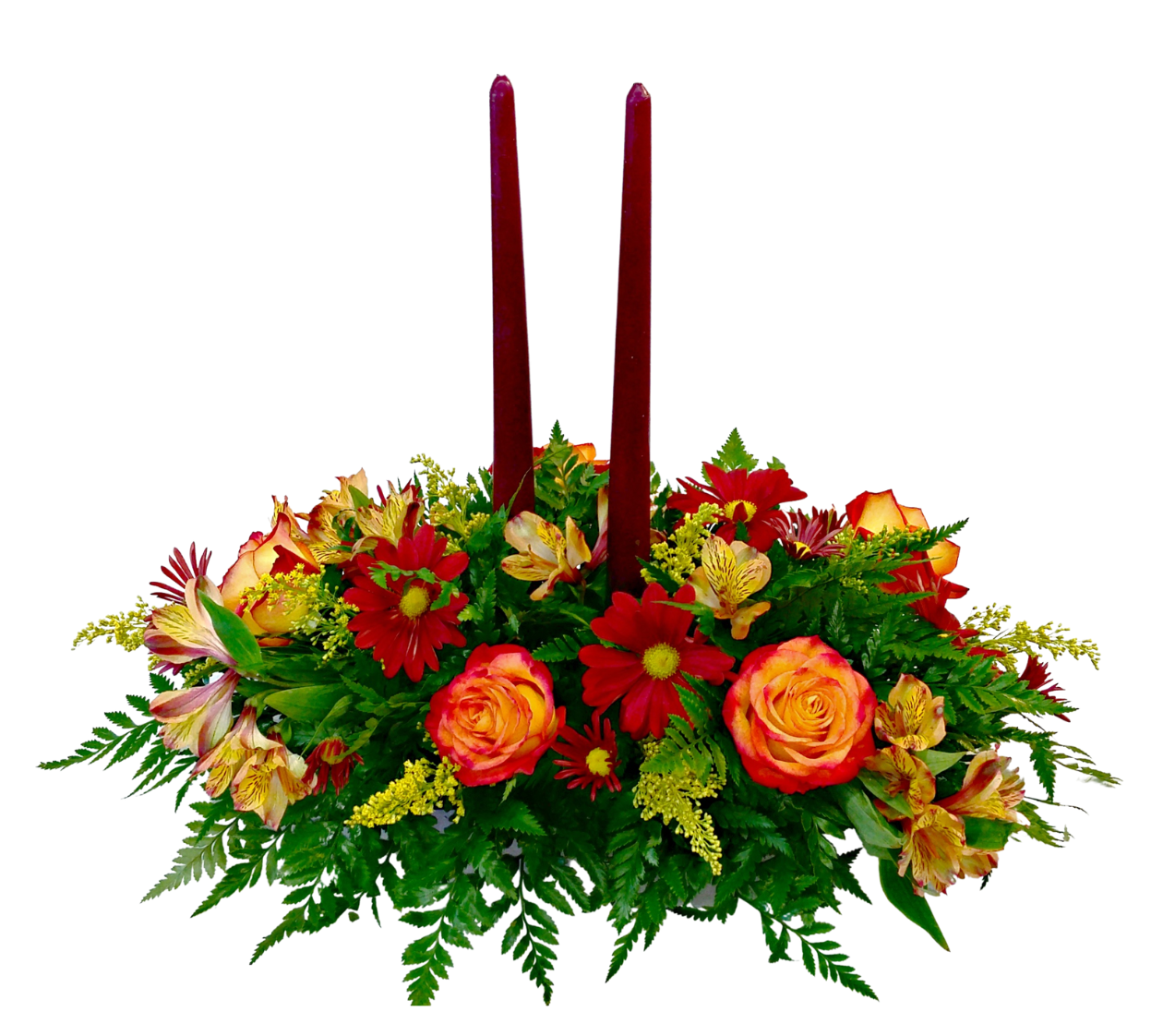 4. Arizona Sunset Centerpiece IF-853: Bring a burst of color to your table with our stunning Fiesta Celebrations centerpiece, a lively addition to your Arizona celebrations. Filled with the exotic beauty of lilies, the fiery charm of vibrant red roses, the sunny allure of bright yellow solidago, the unique touch of charmelia, and the warm hue of rust-colored poms, it's a floral fiesta for the senses. Topped off with two candles, this centerpiece promises not only visual delight but a warm ambiance for your dinner table. Let the festivities begin with this beautiful and lively arrangement.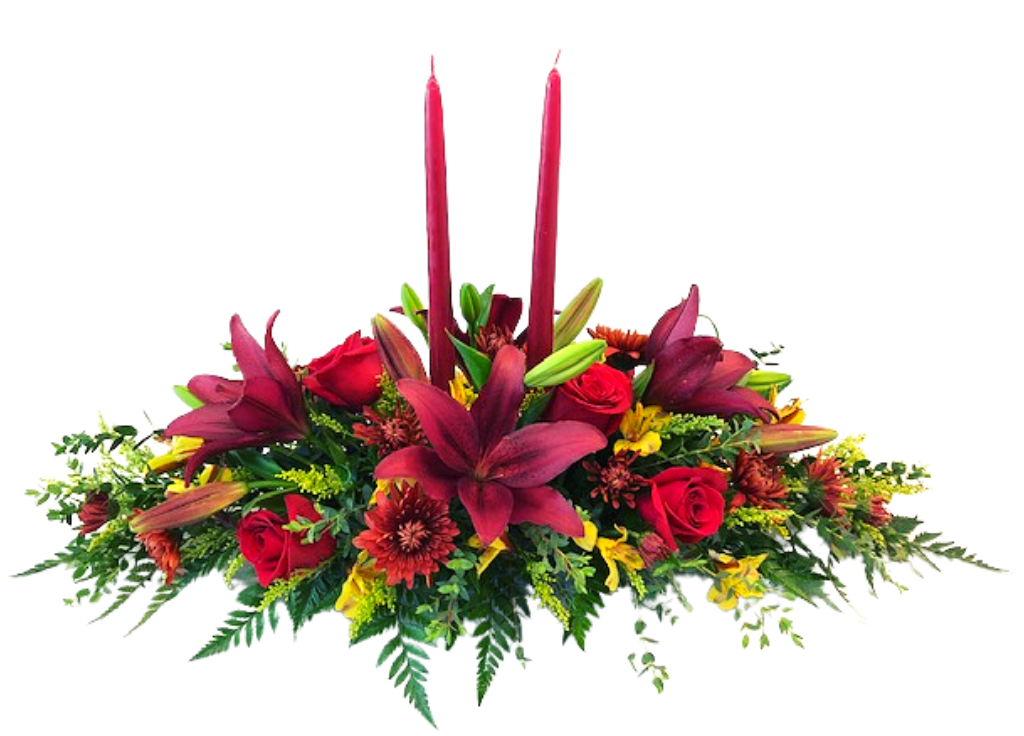 5. Harvest Centerpiece IF-848: Tailored for a cozy dining experience or a table brimming with delectable platters, our Harvest Centerpiece brings a touch of autumnal charm to your Arizona gatherings. Adorned with the warmth of orange roses and the vibrant hues of harvest mums and alstroemeria, this centerpiece is perfect for creating an intimate and inviting atmosphere. Embrace the essence of the season with this delightful arrangement, tailor-made for smaller tables filled with the bounty of Thanksgiving.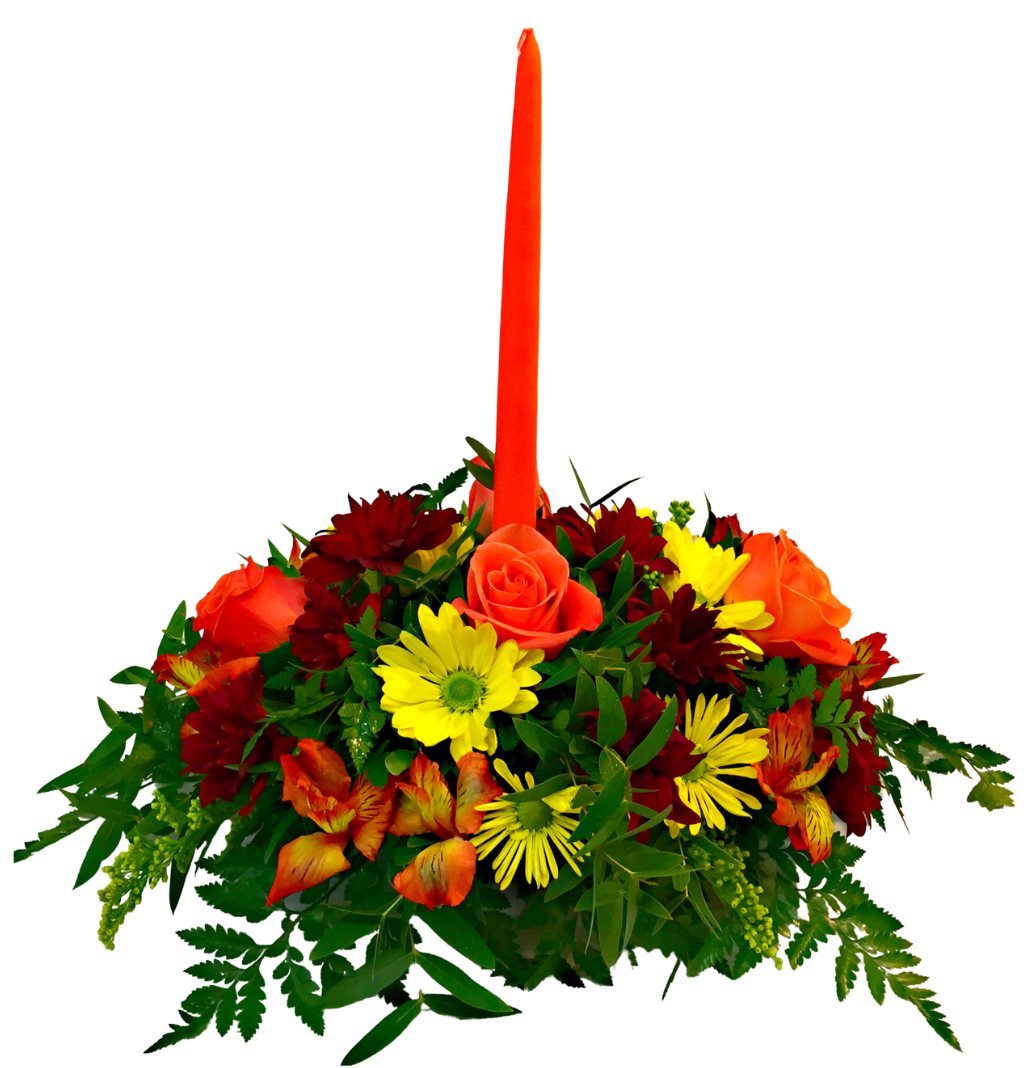 6. Pumpkin Patch Symphony IF-5018: The Pumpkin Patch Symphony bouquet, embodying autumn's elegance, is the ideal Thanksgiving gift for your long-distance loved one. This enchanting arrangement, meticulously crafted with a harmonious blend of red roses, bronze poms, orange mini carnations, purple alstroemeria, grevillea, and preserved oak leaves, forms a visual and aromatic symphony, delivering the spirit of the season right to their doorstep. The choice of a stunning, keepsake, white ceramic pumpkin vase adds an extra layer of charm and sophistication, transforming the bouquet into a lasting treasure. Beyond its visual appeal, the Pumpkin Patch Symphony captures the essence of fall, making it a perfect choice for autumn celebrations.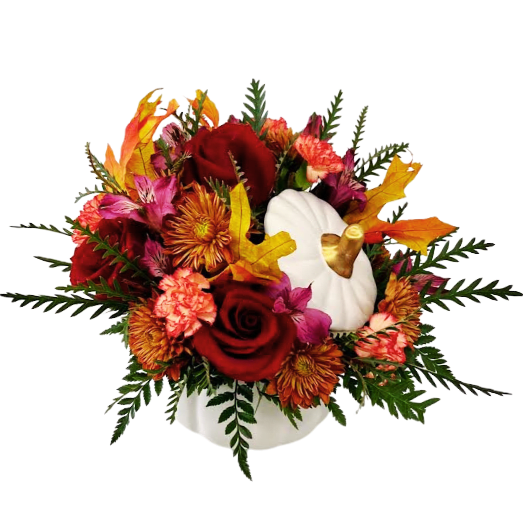 7. Thanksgiving Cornucopia IF-818: This Thanksgiving, convey your heartfelt sentiments across the miles with our exquisite cornucopia, a timeless symbol of Autumnal abundance. Ideal for adorning the kitchen counter, coffee table, or entryway, the arrangement features a harmonious blend of gorgeous lilies, hypericum berries, mums, carnations, and mini carnations. This cornucopia-shaped basket is not just a floral arrangement; it's a heartfelt expression of gratitude and love, making it the perfect Thanksgiving gift for your long-distance loved one, bringing the spirit of the season right into their home.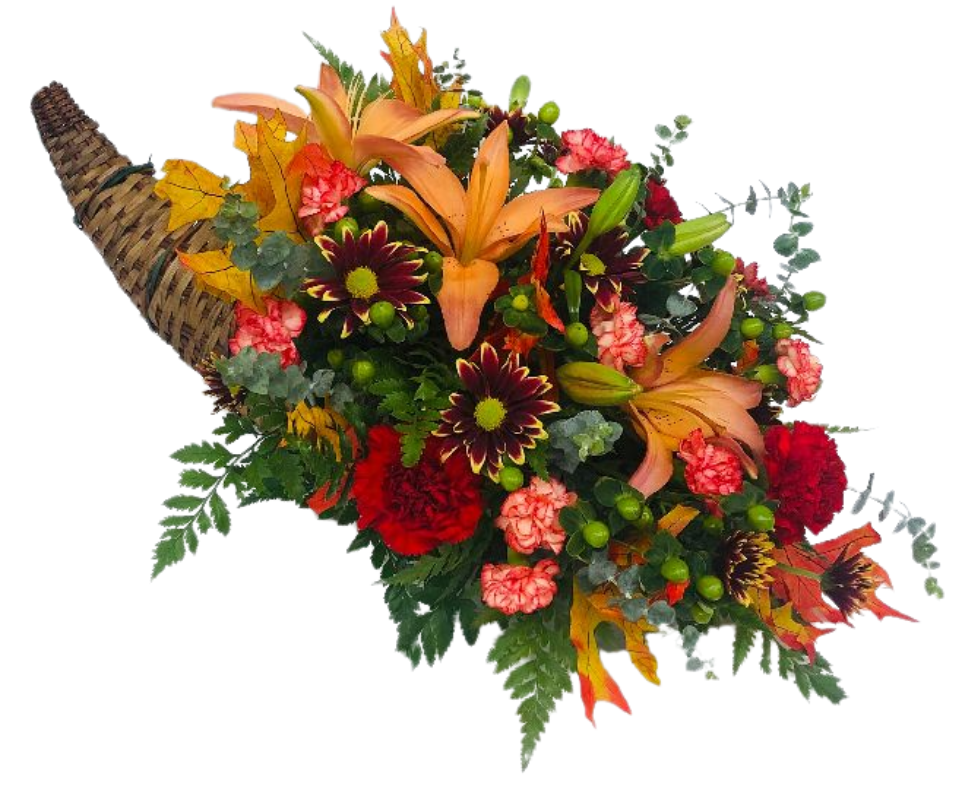 Same-Day Flower Centerpiece Delivery by Fiesta Flowers, Plants & Gifts
At Fiesta Flowers, Plants & Gifts, we invite you to revel in the joy of seamless celebrations where the beauty of nature is delivered right to your doorstep. Our Same-Day Flower Centerpiece Delivery service guarantees that your gatherings will be adorned with the freshest and most vibrant blooms, infusing a touch of floral elegance into your special moments. Take the stress out of planning and order as early as today, ensuring your celebrations are effortlessly adorned with the splendor of nature's bounty.
Celebrate Your Thanksgiving with Beautiful Flower Centerpieces
As you prepare to gather with family and friends, consider the transformative power of a thoughtfully crafted flower centerpiece. From Harvest Shimmer Centerpiece IF-864 to Harvest Centerpiece IF-848, each centerpiece tells a unique story of gratitude and abundance. This Thanksgiving, let the beauty of these floral masterpieces serve as a reminder of the blessings that surround us and the joy that blooms in the company of loved ones. May your table be adorned with not just flowers but with the spirit of gratitude that makes Thanksgiving truly special.