What exactly is an Order Gatherer?   An Order Gatherer, also known as "OG," is an online only company in the floral industry dedicated to marketing and "gathering" orders. They then send the order to a real Florist to fill through 1-800-Flowers, FTD, Teleflora or they ev ...
What exactly is an Order Gatherer?
An Order Gatherer, also known as "OG," is an online only company in the floral industry dedicated to marketing and "gathering" orders. They then send the order to a real Florist to fill through 1-800-Flowers, FTD, Teleflora or they even try calling a local Florist to design & deliver the order while keeping up to 50% of what the customer paid for the order! I'll explain below…
Arrangements ordered from an Order Gatherer are placed online or on the phone. If you do call them, notice the sounds of a call center on the other end. This is a dead giveaway that you have been bamboozled into calling an Order Gatherer and not a real Florist. Beware, ordering from an Order Gatherer comes with a hefty price. And the price is not worth your peace of mind!
For example, if you place an order on an Order Gatherers website and pay $75 for a flower arrangement, $15 for delivery and another $10 for their "service fees" plus tax, the OG will try to send that order to a real Florist to design and deliver it for them. However, they only send the Florist $45 (or less) to do so. This means that your recipient will most likely NOT receive what you have ordered for them because the Florist can't create a $75 valued arrangement plus deliver it for only $45. That results in a loss for the Florist and no company can operate at a loss and stay in business. Remember, Order gathers only advertise products they do not actually produce, design or deliver anything; they ONLY act as a middleman between REAL Florists and customers. The worst part about an OG is that they rip off you, as the consumer, and they also rip off the Florist leaving you with a negative view of our wonderful Floral & Gift Giving Industry.
Order Gatherers pretend to be local Florists…they post pictures of expensive floral arrangements (usually the same pictures as Teleflora, FTD or 1-800-Flowers arrangements because that is how they get their orders sent to a real Florist) but under charge for them to get your sale. For example, a dozen Roses in a vase is normally $99.99, however on JustFlowers.com they post it as $59.99. Sounds like a great deal, right? Not so fast…after all of their service fees and promises of before 1pm delivery, you end up paying what you would have paid at a real Florist anyway but might not receive it the day you needed it or even receive what you actually ordered at all.
What is the difference between Local Florist and Order Gatherer?
Local Florist: They sell, arrange and market their product. They have a physical location, Inventories, and suppliers, and also deliver the flowers to the recipient directly. You know exactly what you are ordering and receiving (in a timely manner, no less).
Order Gatherer: They have no physical location and only receive orders from customers online or by phone.
Using local Florists is the most favorable option because they offer a beautiful and efficient service as well as high quality products that can be delivered quickly and conveniently for the recipient, whereas Order Gatherers don't provide any of this.
Why are Order Gatherers a problem?
An Order Gatherer often provides misleading advertisements or information. They also add extra cost and get a hefty commission on the product a customer buys. This cost mainly comes from the time and "effort" that they spend on collecting orders. On the other hand, the Florist who fills the order won't receive the payment for that order until after a month or more (after the wire service that they use reconciles their statement).
If you have any problems with your order, such as not getting what you ordered or receiving it too late, all the blame will be on the local Florist, not on the OG's misleading you.
The Order Gatherers will attract you by appearing on the first page when searching for Florists online and their well-maintained website. They spend tons in marketing dollars to show up first on the internet in cities all across the world. They can be so sneaky you will think they are a local Florist and maybe even your favorite local Florist. EG: You search for a Florist in Tempe, AZ. Your search query on google may come up as Floristtempe/fiestaflowers and when you click on it, it takes you to THEIR website even though you think you are being directed to us, Fiesta Flowers. Yikes! Remember, they are making A LOT of money by ripping you off as explained above.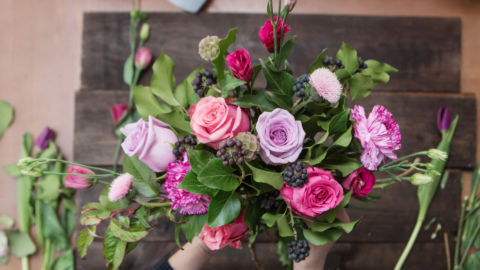 Here are some tips on how to protect yourself and your local Florist
Buy flowers from a local Florist. When you do this, you'll support the local Florist by keeping them in business. And remember, your local Florist is the one who donates and supports your local schools, community, etc.
Support your neighborhood Florist when buying gifts for occasions like Birthdays, Anniversaries, Get Well, Congratulations, Just Because, Mother's Day or Valentine's Day. The amount of money a Florist makes these days is not just to make a profit but also to maintain the quality of their business throughout the rest of the year. They will be more than happy for your support. And remember, most Florists offer far more than just flowers! Here at Fiesta Flowers, Plants & Gifts we also have plants, gourmet, organic, locally made chocolates, scented soy candles, keepsake, engraved stones, unique greeting cards, stuffed animals, coffee mugs & balloons.
When looking for a legitimate Florist online, finding one that is not an Order Gatherer can be tricky. So what are some ways to find the best Florist near you? One way is to search by Florist in your recipient's zip code. Another way is to search by Florist in the city name, or you can use social media for recommendations and reviews if you're close.
Do NOT click a search engine result at the top or the bottom of the page with an ad icon or logo because they are most likely an Order Gatherer. Scroll down further to the map to view where the local, brick and mortar Florists are. Check out their ratings and click on an actual Florists website or give them a call. We are always happy to assist!
Always support and buy from your neighborhood Florist for all your flowers, gifts, plants, and balloon needs. When you shop locally in your recipients area, you are assured that your special someone will receive high-quality flowers and gifts and you will receive the best services. You also help your community because it benefits the local tax base and the local economy, allowing the community to flourish. Above all, you are supporting a small Florist's DREAM! What could be better than that?!
Here is a list of Online Gatherers to avoid:
List of known Florist Order Gatherers
Alan's Flowers and Gifts, AKA Plantrex
Allyson's, AKA Plantrex, AKA Jacks Florist
Americana Florist
America's Funeral Florist
Amy's Flowers
Ava's
Best Flower Delivery
Bloomex
Blooms Today
Blooms USA
Blossom Flower Delivery
Bouqs.com
Brant's Florist
CakeNFlowers.com
Canada Flowers
Cheapflowers.com
Choice Flowers LLC
Coast To Coast Florist
Coast To Coast Flowers
CyberFlorist.com
Diamond Flowers (Port Hueneme, CA)
Divine Light Flowers
EFlowers.com
Express Florist
Faith's Flowers
Fast Flower Delivery (Tustin, CA)
Fifty Flowers
FloraQueen
Floral Alliance
Florist One
Florists.com
Flower.com
Flower Delivery Express
Flower Shopping
Flowers Across America
Flowers By Jerry
Flowers By Tina
Flowers From Our Heart (Reseda, CA.)
Flowers Sent Today
From You Flowers
FTD
Getflowers.com
Gift Blooms
Gift Tree
GoFlorist.com
Good Choice Flowers
GourmetGifts.com
Hospital Gift Shop
Jacks Florist, Avon Lake OH
Just Flowers
Kabloom
Kim's Florist
Kremp
La Tulipa Flowers
Lily's Florist
Lime Vizio
Lola Flora
My Global Flowers
My Local Flower Shop
Merit Florist
Memorial Florist
Oak Island Florist
Open Blooms (Blooms Today)
Palm Harbor Florist
Pam's Garden (Salem, OR)
Patricia's Petals
Pickupflowers.com
Plantrex also goes by Jack's Florist out of Avon Lake, OH
Pro Flowers
Pugh's
Ranch Florist (aka The Flower Shop, San Jacinto, CA.)
Rita's Florist
Ryan Jeffrey Flowers
Rudy's (Perth Amboy, NJ)
Santrums
Send Flowers
Sunny Flower Delivery (Sunny Flowers)
Teleflora
Terry's Florist AKA AMAZON
The Flower Shop (aka, Ranch Florist, San Jacinta, CA.)
The Sympathy Store
The Tribute Store
Town and Country (Niagara Falls, Ontario)
Troy's
Trusty Flowers
Usaflorist.com
Your Professional Florist (Palm Harbor, FL)
1-800-Flowers
****UPDATED**** August, 2021 (Their may be even MORE now that we are in 2022)
Find us on Facebook at: The Florist Sleuth