Sympathy Baskets
1. Heartfelt Memories Funeral Basket FB-534
An arrangement that captures a spectrum of emotions with its beautiful palette of purples, blues, and whites, this basket honors the memory of your loved one, making it a fitting tribute to their life and the cherished memories you hold dear.
Within this arrangement, the delicate elegance of lavender roses mingles with the regal hues of purple carnations and mini carnations, creating a symphony of colors that mirror the depth of your feelings. The addition of purple wax flowers and white alstroemeria brings a sense of gentle comfort, while the striking blue Delphinium adds a touch of serenity and reflection.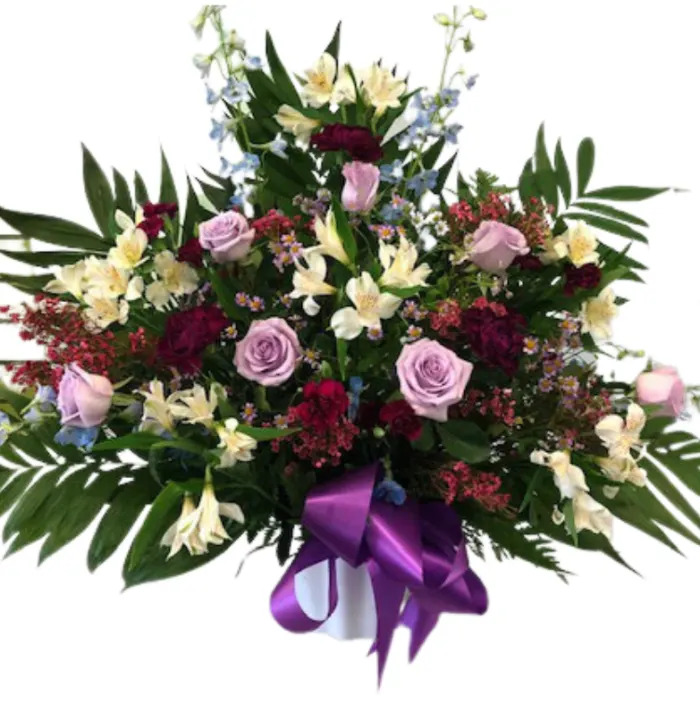 In honor of an individual whose vibrant personality left an incredible mark on everyone around them, we present a tribute that encapsulates the very essence of their spirit: the Lush Orange Basket. This thoughtful arrangement is a testament to the warmth that this person brought into our lives.
At the heart of this arrangement are the radiant orange roses, lilies, alstroemeria, and solidago. Each petal seems to echo their laughter, their kindness, and their ability to light up even the dullest of moments.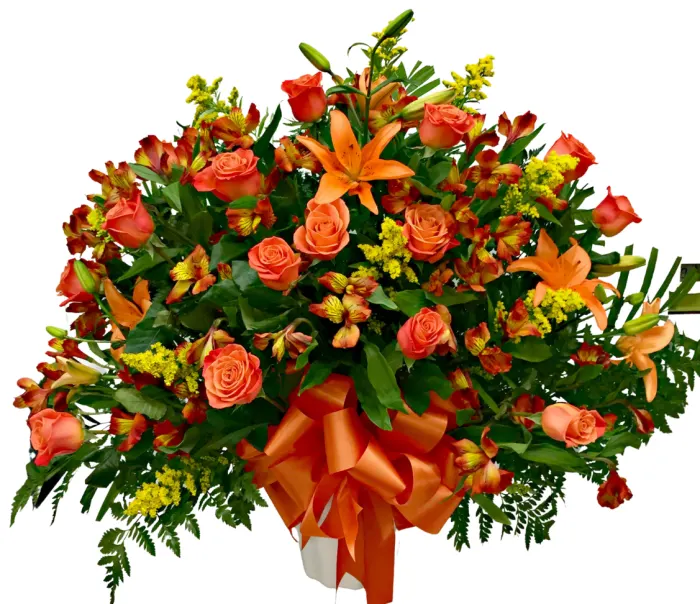 3. Yellow Sunflower Tribute Basket FB-508
In times of loss and sorrow, finding the right words to express love and sympathy can be challenging. Our sunflower tribute basket serves as a heartfelt representation of your emotions during such moments.
Sending our Sunflower Tribute Basket is a way to extend your arms in a warm embrace, even when you cannot be there physically. It carries the weight of your emotions, the depth of your care, and the sincerity of your condolences.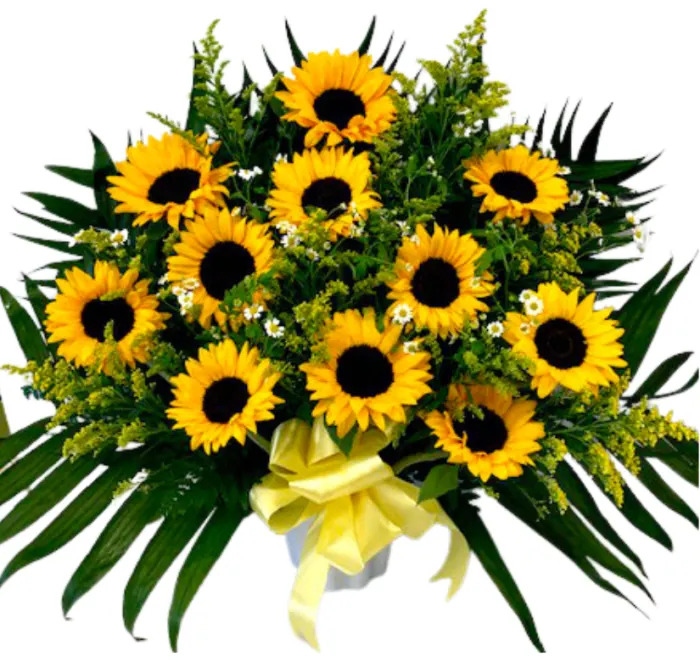 Casket Flowers
1. White Lily Casket Spray FC-313
The White Lily Casket Spray FC-313 stands as a tribute, designed to convey heartfelt sympathies in a truly elegant manner. This exquisite all-white casket features a delicate composition of white lilies, snapdragons, mini carnations, carnations, and roses, carefully arranged to create a soothing atmosphere of remembrance.
In moments of loss, when words are insufficient to convey the depth of emotions, this casket spray serves as a resounding gesture of sympathy.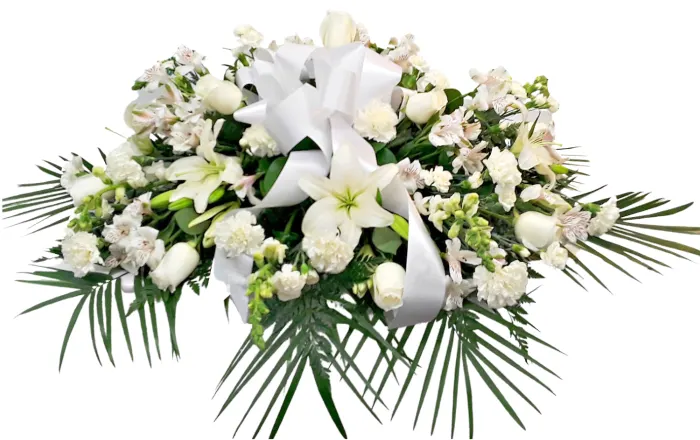 2. Always Adored Casket Spray FC-316
The Always Adored Casket Spray stands as an embodiment of love, a canvas of memories, and a tribute that transcends words. Enveloped in the ethereal beauty of white lilies, each petal tells a story of purity and the enduring spirit that lives on. Snapdragons, like gentle whispers of comfort, intertwine with the gentle grace of carnations and mini carnations, creating a tapestry of emotions that reflect affection and cherished moments shared.
You can also create a custom-made banner leaf from elegant Aspidistra leaves, offering space for one word each—a heartfelt message, a favorite name, or a sentiment that captures your unique bond.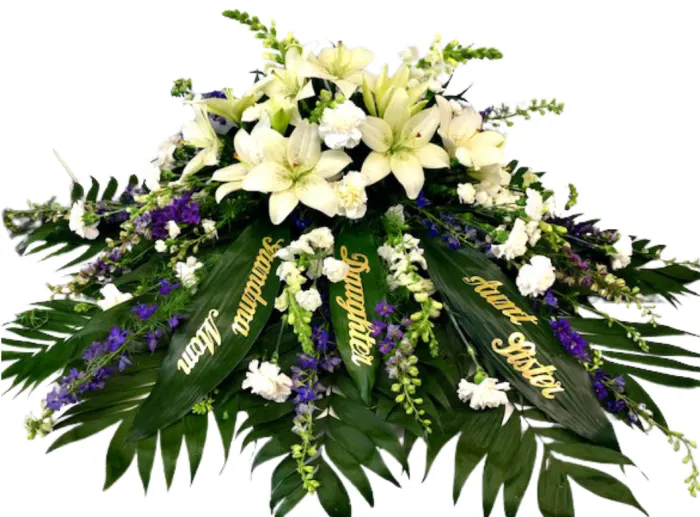 3. Spring Garden Casket Cover FC-308
As you bid farewell to your loved one, this arrangement emerges as a radiant tribute, embracing life's beauty and celebrating cherished moments.
Measuring 40 inches in width and 36 inches in depth, the Spring Garden Casket Spray envelops your loved one in an embrace that captures the essence of their vibrant spirit. It's more than a floral arrangement; it's a journey through nature's wonderland, a tribute that radiates joy, and a celebration of a life lived fully.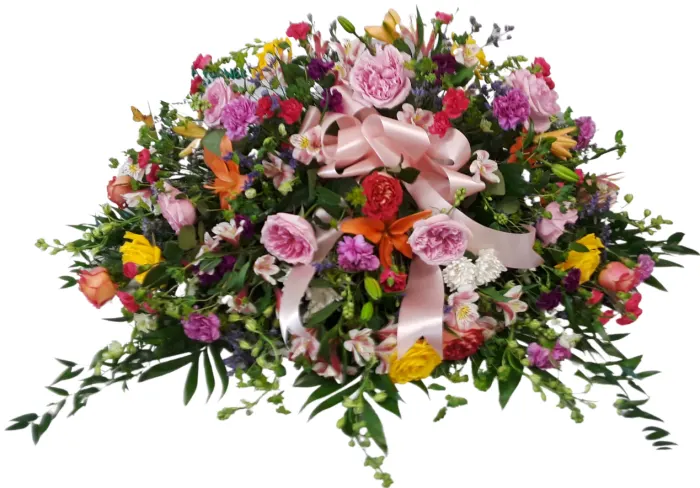 4. Colorful Reflections FC-315
The colorful reflections Casket spray goes beyond petals; it becomes a living tribute to the life it honors. Each bloom holds a memory, a story, and a feeling that lives on.
In times of remembrance, this casket spray speaks its own language—a language of colors that convey what words sometimes can't. It captures the spirit of your loved one, celebrating their uniqueness and the joy they brought. Let the Colorful Reflections Casket Spray be a vibrant reminder of a life well-loved.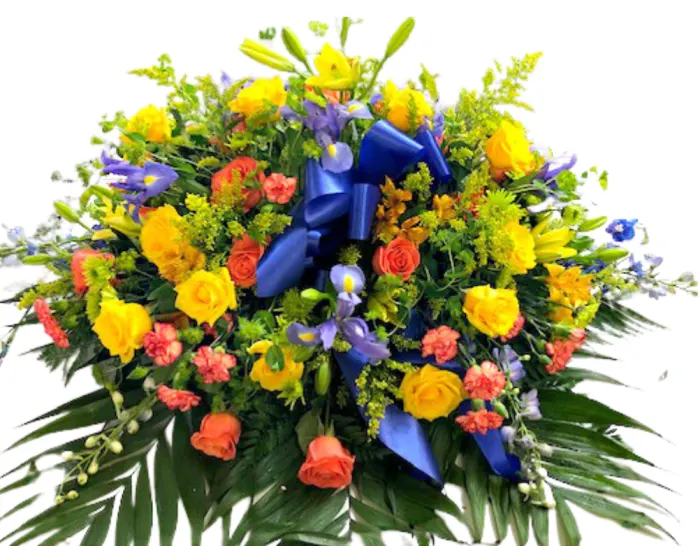 Cremation urn wreaths and custom sympathy products
1. Eternal Memory Funeral Urn Wreath FC-311
A heartfelt embrace in beautiful white flowers encircling the funeral urn from all sides. This arrangement is designed to create a serene tribute that's as unique as the cherished memories it holds.
The urn takes its rightful place in the center of this arrangement, nestled amidst an elegantly asymmetrical design. Imagine the delicate white Asiatic lilies, the embodiment of purity, standing tall alongside tender mums, graceful roses, and the enduring elegance of alstroemeria.
As you bid farewell, let the Eternal Memory Funeral Urn Wreath be a symbol of eternal love and an enduring memory that blooms like the flowers it holds.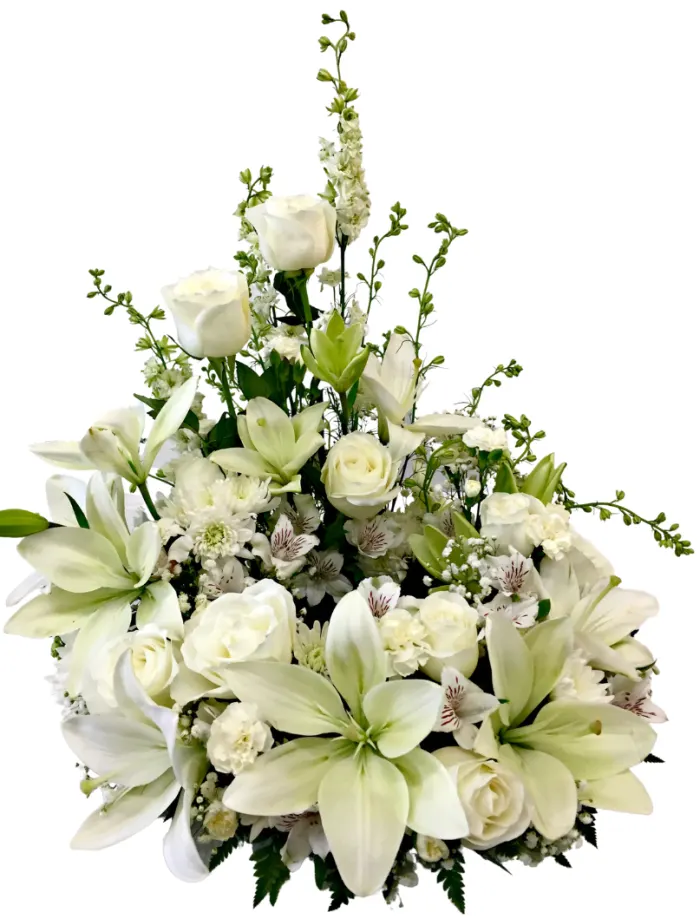 2. English Garden Urn Wreath FW-612
This wreath holds a special place for memories of mothers, grandmothers, and the remarkable women in your life. It's an arrangement that speaks of love and remembrance.
In moments of reflection, the English Garden Urn Wreath becomes a visual reminder of the love and connection that live on. It captures the essence of the women who touched your life, celebrating their beauty and strength.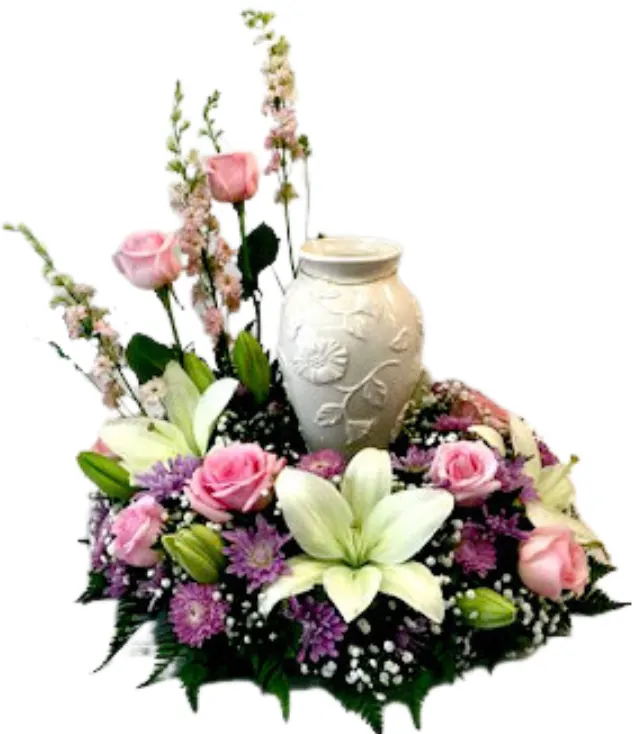 3. Eternal Memory in White and Blue Tribute Urn Wreath FC-312
Give your cherished one nothing but the finest. Our Eternal Memory Funeral Urn Wreath embraces the funeral urn from all angles with a gentle embrace of white flowers adorned with soothing blue details. The urn is given a dedicated space at the arrangement's heart, where it rests with special significance. This graceful and asymmetrical design showcases lovely white Asiatic lilies, comforting mums, timeless roses, delicate alstroemeria, dainty mini carnations, serene blue Delphinium, and a touch of misty blue. It's an elegant tribute that speaks of love and care.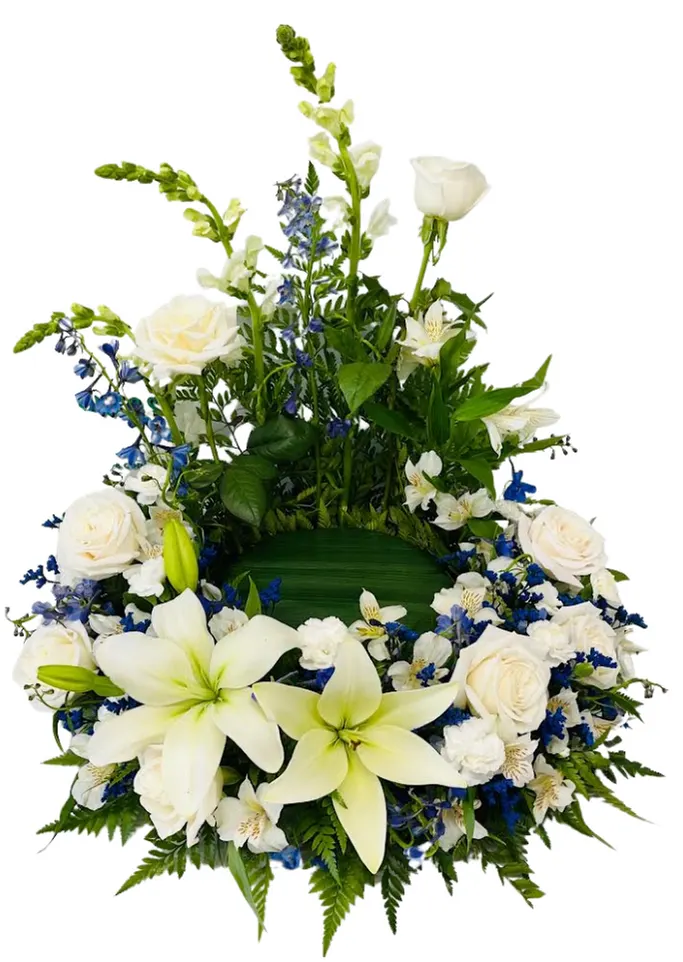 Sympathy standing sprays
A beautiful arrangement for a beautiful person featuring 24 delicate white roses, pristine white lilies, graceful alstroemeria, and the subtle elegance of wax flowers, this all-white wreath serves as an expression to bid farewell to your cherished ones.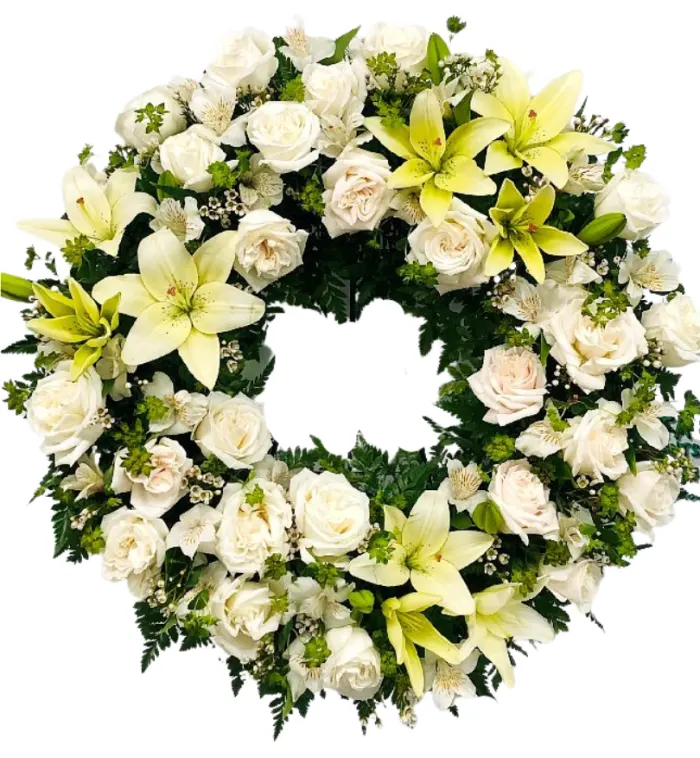 The Pure Heart Spray is a tribute display that speaks of love, respect, and fond memories. Comprising a delicate blend of elements, the Pure Heart Spray combines red roses and alstroemeria, white daisies and carnations, and delicate baby's breath. Each flower reflects your care and the emotions that words sometimes struggle to convey.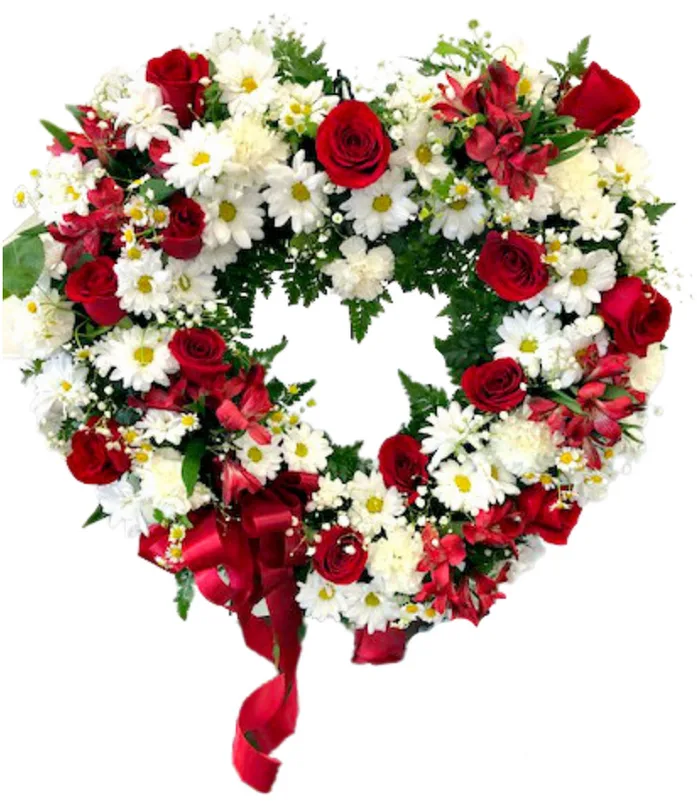 Sympathy Vases
1. Kindest Heart Cube U-3048
A tender and compact sympathy arrangement designed to bring comfort during difficult times Nestled within a clear 5" by 5" glass cube vase, this arrangement features an array of pristine white blooms, including lilies, roses, alstroemeria, mini carnations, and delicate wax flowers. With touches of lush greenery, it forms a serene tribute. Let the Kindest Heart Cube serve as a soothing gesture to convey your deepest sympathies.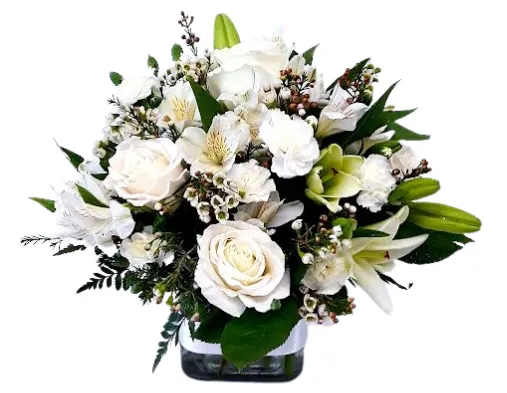 2. Peace & Serenity Bouquet V-1350
A gentle embrace of tranquility. This all-white arrangement encapsulates the calming essence of white lilies, daisies, and roses, accompanied by the delicate presence of baby's breath. Let its serene beauty bring comfort and joy to those you care for, echoing the soothing whispers of tranquility.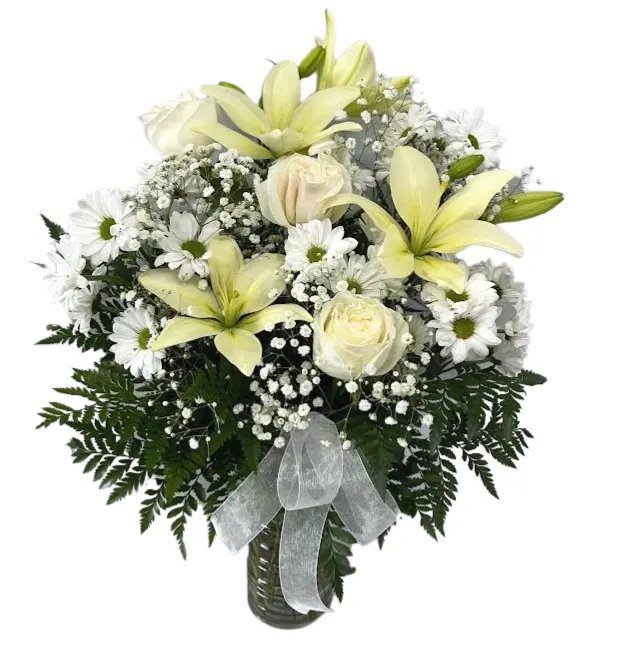 Just as you extend care and support through a warm embrace, "Endless Love" blossoms as a floral embodiment of your deepest sentiments. It showcases the elegance of white lilies, the delicate beauty of white larkspur, the charm of white alstroemeria, and the airy grace of white plumosus fern. The lush greens incorporated into the arrangement add a touch of vibrancy and balance to the overall composition.
As you share this flower arrangement, you're not just offering a beautiful gift but also a gesture of endless love and support that will surely touch the recipient's heart.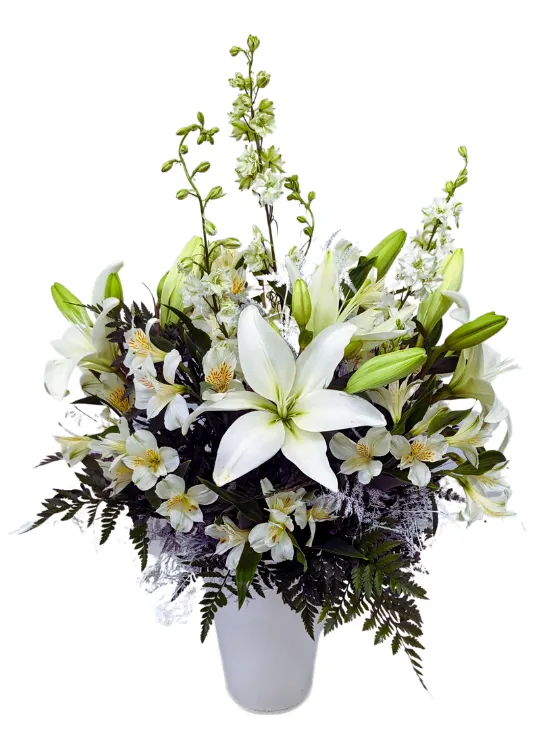 Sympathy arrangements are more than just beautiful flowers; they are a tangible expression of care and support during times of loss. Whether you choose traditional white lilies or opt for a more personalized tribute, your gesture will undoubtedly bring solace to those grieving. In these moments of sorrow, your thoughtful sympathy arrangement can provide a ray of hope and comfort that will be remembered for years to come.
For a range of heartfelt sympathy flower arrangements, kindly explore our offerings at FiestaFlowersAZ.com.